Lavender provides an appealing rustic element to any garden. How would you like to incorporate the lovely fragrance of lavender into your landscape? Each time you step out the door, your nose is met with the intoxicating fragrance that only lavender delivers. If you are new to gardening, boy, you'd love these small lavender garden ideas! 
How to Organize an Outdoor Lavender Garden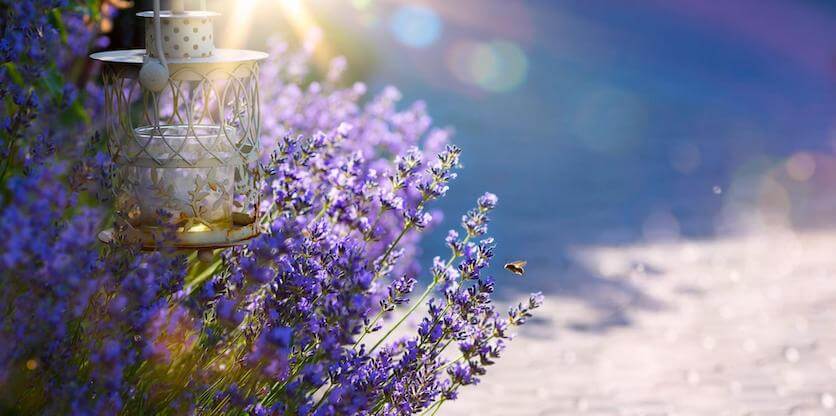 Lavender is one of the most flexible herbaceous plants I have had the most luck with. Whether you want a field of lavender or just a small garden, it just seems to work in any situation! However, there are a few things to consider before planting your lavender garden.
Companion Plants
You can safely plant lavender near a number of other plants, and vice versa. So, what is a good companion plant for lavender? Here are my suggestions: 
Competing Plants To Avoid
What can you NOT plant near lavender? Plants that don't share the same type of condition requirements should not be planted near lavender bushes. These include Impatiens, Fuschia, Coleus, Mint, Hostas, and Camellias. 
Lighting and Shade
I have so many readers ask me, "Does lavender grow in shade?" Lavender is native to the Mediterranean, which is a dry, sunny region. Very few lavender species are capable of tolerating partial shade. These species are French, Spanish, and English lavender. However, it's best to plant all of your lavender (regardless of species) in an area that gets full sun.
Fertilizing
As tempted as we are with nurturing our gardens with fertilizer, lavender does not need fertilizer and does quite well without it. Fertilizer tends to deter lavender from blooming.
Watering
Lavender does not do well in wet areas. These plants do best if you water them only when the soil is dry. 
4 Small Lavender Garden Ideas
Not sure where to plant lavender in the garden? Placement and arranging lavender plants isn't all that difficult. It's all about symmetry and the overall design you want for your garden. So, how do I arrange lavender in my garden? I have various gardens, each with different styles. 
I have certain ways I arrange lavender in my landscaped flower gardens as opposed to a little veggie garden out in the back corner. 
In deciding where to plant your lavender, you should consider the type of lavender you want to grow. The type of species dictates where you'll place it. Lavender species require specific exposure to the sun, so you may have to plant them in an area according to the sunlight requirements. 
As far as arranging your lavender plants, again, that depends on what the overall look is that you want to achieve and where you are placing it. For example, I have planted my lavender immediately around the peach tree. In front of the lavender, I planted Brassica oleracea (beautiful edging ornamental cabbage). The lavender attracts pollinators which is beneficial for my peach tree. The Brassica cabbage deters pests from the lavender. Together, they create a perfect synergetic ecosystem. 
But that's just one way to organize your small lavender garden. Here are other options too!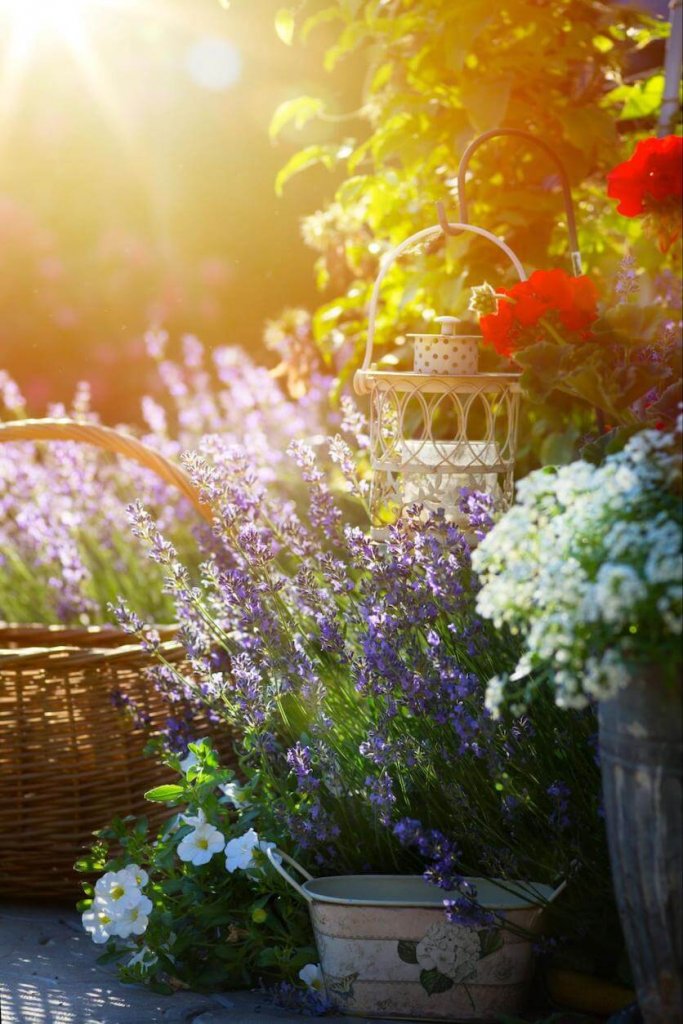 1. Patio Container Lavender Gardens
Lavender provides a beautiful element as a container plant for patios and outdoor living areas. 
But before planting in a container, be sure you select the right container, placement, and potting soil.
Lavender containers should be put in a place that gets full sun. Never place your lavender in the shade. One of the upsides of having lavender container plants is that you can bring them indoors once winter hits. Growing and caring for lavender indoors is pretty simple too. 
Lavender does best in the succulent potting mix because it tends to retain water less than traditional potting soil. Containers should have about an inch of limestone gravel in the bottom with a succulent potting mix as the soil. The alkalinity of the soil should be 6.5 to 7.5.
Containers for a lavender plant should be 1-2" larger than the size of the root ball. Most of us like to plant a bunch of lavender in larger size containers for patios. Typically, six bulbs planted in an 18" wide container that's 15" deep should suffice. 
Always make sure your container has a drainage hole. I tend to avoid metal or terra cotta containers for patios because metal retains heat that can damage the roots and terra cotta robs the soil of moisture after watering. But you can also use some upcycle some household items as containers. 
2. Border Lavender Gardens
Planting lavender in a border to outline and beautify sidewalks, porches, patios, mailboxes, and your outdoor garden is so chic! 
If you happen to have a rustic landscape theme, lavender is perfect! Best of all, those who happen to walk by the lavender get a welcome that tickles the senses with a gorgeous fragrance!
Lavender plants should be planted parallel to the walkway, driveway, or another area that gets full sun and should be done in such a way that it doesn't impede traffic. The foliage of lavender may hang over a walkway if it is planted too close to it. It also looks unattractive. 
Lavender bulbs should be planted about 10" away from an area (sidewalk, driveway, etc.) and spaced about 15" apart from one another. Place 1-3 bulbs into an 8" deep hole, cover with soil and add a layer of mulch on top.
Test the soil in the area you'd like to plant your border lavender in. The PH should be 6.5-7.5. Amendment of the soil may be required to adjust the alkalinity. You can do so by adding some lime or sulfur. Never plant in an area that retains water because your lavender requires dry to moist, well-draining soil. 
3. Window Box Lavender Gardens
Window boxes with lavender are a beautiful addition to any home. I fell in love with the charm that lavender and rose window boxes added to my backyard cottage shed. The best roses to plant in window boxes with lavender (in the back row) are miniature roses or polyantha roses (in the front row.)
A window box with lavender (and roses) should be placed where it can get full sun. If you place your window box on a window up under a shaded porch, it will not thrive. 
Roses do well in the regular potting mix. However, lavender does better in dryer soil, such as succulent potting mix. So, what I do is mix the two potting mixes at a ratio of 50/50. This satisfies the needs of both species of plants. 
4. Herbal Garden With Lavender
Another question readers ask is, "Can I plant lavender with my herbs?" Absolutely YES! Lavender gets along wonderfully with most herbs such as Rosemary, Basil, Thyme, Sage, and Oregano.
You can create a beautiful and easy-to-care-for balcony herb garden with the above herbs and a bit of lavender planted in the back row. 
So, there you have the condensed version of a few small lavender gardens ideas as a beginner. Get your green thumb going, and you'll find that lavender becomes one of your favorites as it is mine!