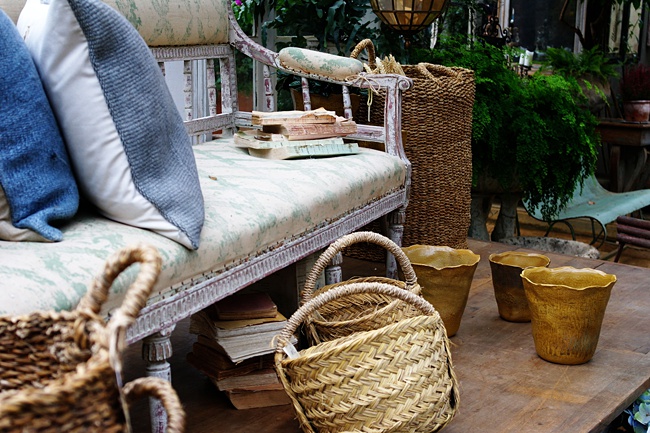 With two young daughters, it's really important to me that our concrete patio is kid-friendly! If you've been following my recent posts, you'll know that while I have a lot of outdoor space, it's all made up of concrete patio.
Having a kid-friendly backyard or garden helps kids to want to spent time outside, and I believe that's so important for raising happy and healthy kids. It's another reason we are a mostly screen-free family too. Spending time outside in nature has been proven to help kids feel calmer, happier, and help them to play more creatively. But what do you do if you have no garden or grassy area where they can run around?
Honestly, I've been so tired of our own concrete patch recently it's been wanting to make me move house altogether! But I love this house otherwise, so I decided to do some research instead to see how I can make a concrete patio or concrete backyard much more kid-friendly and more of a nurturing, inspiring place to be!
Disclosure: as an Amazon Associate we earn from qualifying purchases. Learn more.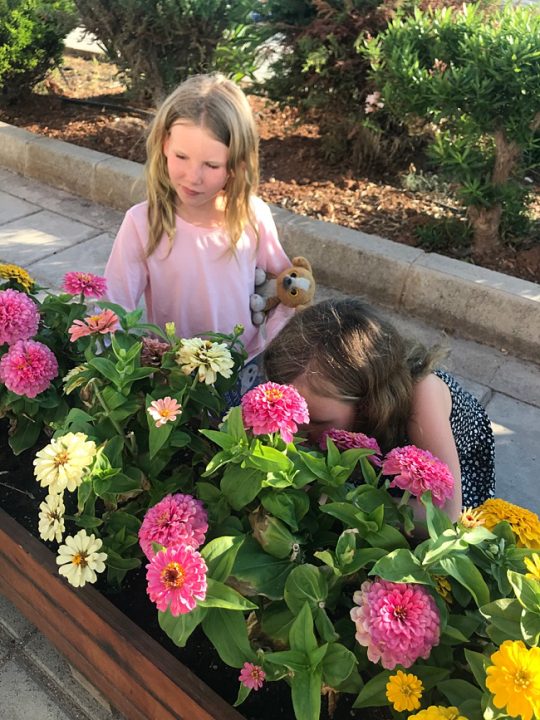 How To Make A Concrete Patio Kid-Friendly – Safe, Beautiful, And Inspiring Ideas!
Make it safe. Use anti slip locking tiles and and tape for steps or stairways.
Create a comfortable, lived-in space
Use plants that are sensory (colorful like daffodils, fluffy bunny tails, scented plants like lavendar) in pots or raised beds
Plant easy-care vegetables such as potatoes and carrots in pots or raised beds, to teach kids about sustainability, nourishment and nutrition
Plant a hanging or pallet herb garden with your kids using hanging baskets or by nailing a pallet to a wall or fence.
Add sensory elements for younger children – a water or sand garden for sensory play and to develop fine motor skills
Create a rockery – kids can get involved in moving rocks and garden design
Plant flowers that attract bees, birds, and butterflies for nature study
Add seating – floor cushions or simple benches and stools work well for kids and adds comfort to being outside
Use walls in smaller spaces – create a hanging herb garden, or hanging vegetable baskets or flowers
Make chalkboard walls
Create visual impact upwards – use lighting and bunting to help define and create child-friendly spaces
Add DIY birdhouses or even beehives if your patio is big enough (and your child is not too young to understand about staying safe around bees)
Add a small table that is child's height where they can plant, paint, and draw
Create games on the floor using pavement chalk or tiles, such as hopscotch
If you have space, add a wendyhouse, playhouse, or teepee
Add windchimes for relaxation and soothing sounds
Decorate trees – let your child's imagination run wild
Create a climbing frame or climbing wall – just add rubber matting underneath for safety
DIY an outdoor mud kitchen using wood and old kitchen utensils. 
Use log slices for an adventurous, natural pathway and give each log slice a game such as chequers or naughts and crosses
Make a water wall – use plastic bottles and containers nailed to a fence and pour water from the top for water play. 
Make an instrument wall
Create a fairy garden or fairy door
Make a kids potting bench – use a bench to add pots, seeds, and their own child-size gardening tools.
Create garden art using natural objects such as leaves, twigs, and shells, or recycle household objects
Make unique planters from household objects with your kids and decorate with them
Create a maypole using ribbons to decorate a tree.
Host seasonal events just for your kids in the garden – harvest tables
Place toys in and amongst the plants – garden gnomes, plastic dinosaurs or toy fairies work well
Purchase a worm or ant farm for a fascinating display for kids that will keep them intrigued for hours!
Create a bug hotel or caterpillar sanctuary
Make a hedgehog feeding station using blankets, old bowls, and a water bottle. 
Create a yoga or mindfulness space. Add yoga mats, crystals, windchimes, a small sand tray and / or water feature.
Plant a potted windmill garden
Create a digger garden
To make a concrete patio or backyard kid friendly, keep it safe using locking tiles which prevents uneven ground from causing trips and falls, plant flowers, vegetables and herbs using hanging gardens and walls which encourage kids to spend time outside, have fun together making fun garden projects and create specific areas for exploration, discovery and play!
How To Make A Concrete Patio Or Backyard Kid Friendly
Make Your Patio Safe
Safety is obviously the first priority when making your concrete patio or backyard kid-friendly so you'll want to assess your concrete area and make sure that it's non-slippery, that there are no uneven places where your child could trip and fall, and that any steps are made safe.  You might also want to make a note of any other areas of your garden close to the concrete which might need extra care and attention – check fences for broken or weak areas, sweep the surfaces regularly to keep away debris or building materials, and ensure that gates lock properly.
Use Floor Tiles Over Broken Or Uneven Concrete
If you have an uneven, slippery, or broken surface covering your backyard, this can be a safety concern, especially if you have toddlers.  You can help prevent a concrete patio from being unsafe for kids, using a simple connecting floor tile system.
While floor tiles will be more expensive – These anti-slip outdoor tiles are solid teak wood, and cost approximately $78 for a pack of 10 tiles sized at 12 inches by 12 inches – than keeping the concrete as it is, they will make your floor safer for your child, give you peace of mind, and can make your backyard look much more attractive too.
Interlocking tiles come in both wood, plastic, and rubber types – I prefer the wood as it looks nicer and I'd rather not contribute any more plastic waste to the world!
These wooden teak tiles have the best reviews on Amazon and I love them because they require NO tools to put them in place, which means even I could do it 😀 They are also designed to work even on uneven ground.
These interlocking patio tiles would make a patio or concrete outdoor area look so much nicer, and I love the thought of my kids having wood underfoot instead of concrete.
Make Concrete Steps Safe
Ugh the steps down to our pool are always super worrying for me because the girls literally fly up and down them with no regard for safety whatsoever! Until I found this bad boy on Amazon, and now I feel a LOT better.
It's anti-slip tape! It's clear so you can't see it on stairs or steps.  You can also add this to paths and walkways, you can use it both indoor and outdoors, and it's waterproof too so you don't have to worry about it peeling off and becoming a trip hazard by itself.
I seriously LOVE this stuff and wish I'd heard of it when my kids were even younger, if this saves me a trip to hospital with little ones I think the $20 investment is SO worth it! (and let's face it really I just need it for my own peace of mind and so I don't have to have heart failure every time I see little feet running up and down the stairs)!
Right, now that the most important part is out of the way, time to get creative with your concrete. Your kids will want places to play, explore, get creative, and roam (even if that's not far) – mine definitely need all of those things.
Create A Comfortable, Lived In Space
I think houses look best when they are a little bit wild, lived in, show their history and show signs of being loved – and I think gardens should be the same! Creating a space like this means you aren't worrying about muddy feet or paw prints, you're not concerned if a pot or plant gets tipped over, or chipped, and your space just exudes warmth and happy vibes!
Also, I got the most gorgeous book last week, Pearl Lowe's Faded Glamour and I'm SO in love with it, (get it here)! her house is almost exactly how I visualise my dream home! In it she talks about how brand new things make houses look like hotels, and how she loves old and worn things because it has life in it, and that's what she finds beautiful…
Me too. And I don't think of a way a patio could be any more kid-friendly than adding old and worn out things to give it a touch of charm, and a truly carefree feel.
I mean I know I've used this image before, but how charming is this?! I found this little old run down house in a village near here, it had no garden to speak of, but look what they've done with these old plates?! It's just beautiful, creative, unique, and SO much nicer than some plastic pots or left blank!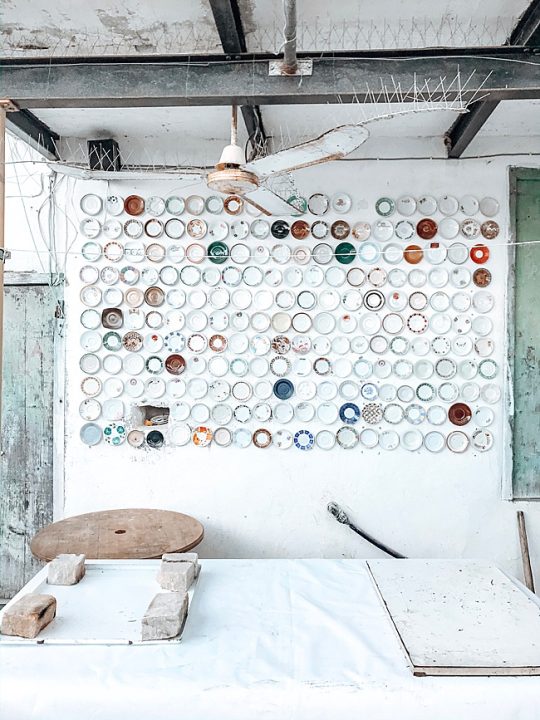 Create A Kids Sensory Garden On Your Patio
For me the most important thing after safety comes in the form of nature, of course. Just because you've got concrete or patio, it doesn't mean you can't create a nature-filled wonderland!
Using pots or raised beds, add plants that kids love to touch, see, and feel.
Best Sensory Plants for Kid-Friendly Patios

Colorful plants such as daffodils, snapdragons, sunflowers, and pansies appeal to kids of all ages. They're easy to grow and easy for little fingers to pick! Pansies also press well so can be used in crafts that appeal to kids too. I know I used to love seeing my grandparent's pansies appear.
Scented plants such as jasmine, lavender, and sweet peas are the perfect sensory flowering plants for kids to plant in your pots and raised beds. Jasmine will grow tall if left unchecked though so it's perfect to grow up a wall or fence, and will fill your patio or concrete backyard with scent.
Tactile plants are ones that kids love to pick! You'll want to avoid plants like roses or anything else with thorns or spikes, and instead head for lamb's ears, bunny tails, and cotton or sage. They'll also love taller and gentler trees such as pussy willow.
Then of course kids love edible plants; choose varieties that grow well in pots or sacks.  Edible plants that grow well in pots or sacks are potatoes, carrots, lettuce; herbs like chives, basil, and rosemary, and fruits such as strawberries, raspberries, and blueberries. Blackberries are great fun to pick in the wild but do have thorns and prickles which make them unfavourable patio choices!
All of these plants grow really well in pots and are easy for kids to plant and grow with you!
I love this sweet gardening kit which makes a great gift to inspire your kids to get outdoors more – whenever I get the girls gardening sets they can't wait to get outside and start planting in their own pots! I love the natural colors too, kids don't need to overwhelmed in the garden by a load of artificial plastic and bright colours, nature already provides a ton of that. Neutral sets are SO much prettier! Click here to see it.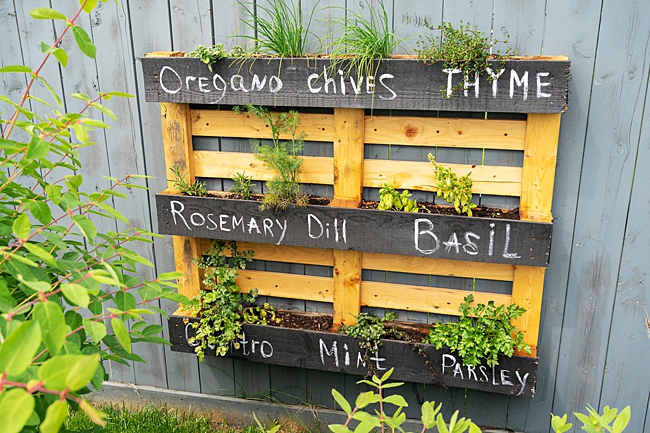 A hanging herb garden is great for patios with small spaces – you can add hanging baskets to any fence spaces, keeping the baskets low enough for smaller arms to reach. Great choices are mint, basil, lavender, and rosemary.
Or if you want to get crafty and have a more rustic and creative appeal for your concrete yard and you have wall space available, this hanging pallet herb garden is the perfect height for kids!
Kids will love to help dry and harvest herbs too.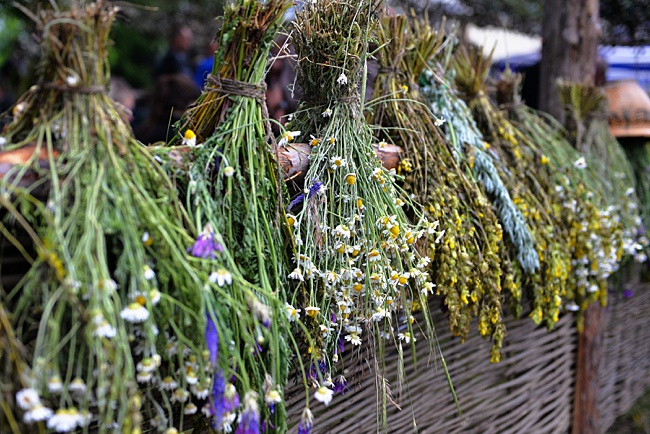 Add A Sand Or Water Sensory Feature For Younger Kids
For younger kids, creating a sand play area or water feature will keep them busy for ages! You can purchase these water / sand tables, but it doesn't have to be complicated – you can create a wooden frame and fill it with sand and add forks and other sensory elements such as shells and pebbles, and it will keep little ones occupied and enhance their sensory processing as well as give them all the glorious time outside!
For older kids, a more aesthetic water or meditative sand tray can be beneficial and encouraging – the sound of water makes everybody happy and an enchanting small fountain or bird bath is perfect for a small space.
Create A Rockery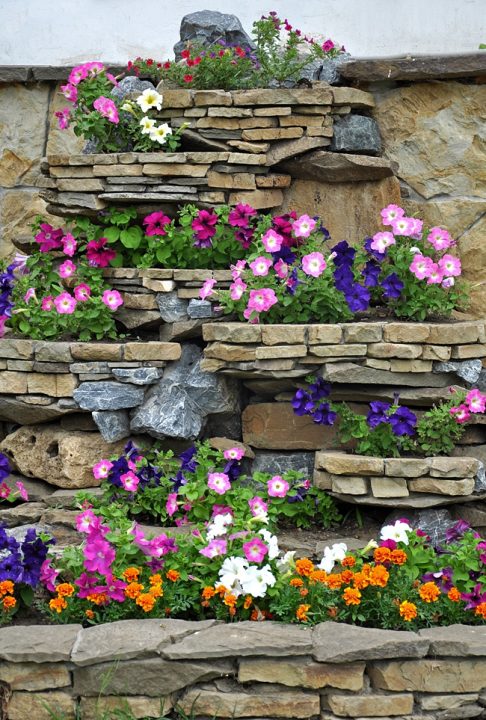 Instagram is leading the rockery revival! A rockery is the perfect mini-habitat for younger children to help create. And once it is alive and thriving, your child will love the ants, earwigs, millipedes and other small creatures that come to your rockery.
Simply add a layer of brick or rubble to make the base and the initial shape of your rockery, add smaller stones or newspaper over the top for drainage, and then add soil, ready for planting and adding rocks to.
Get creative when it comes to filling your rockery – use beach pebbles, pine cones, fairy houses, toy dinosaurs and whatever other surprises your child would love to see!
Good kid-friendly plants for your patio rockery include rock cress, which produces clusters of white flowers, and succulents of your choice tend to grow well in the shaded spots of your rockery (Plus adding that insta factor, obvs).
Plant Flowers That Attract Birds, Bees, And Butterflies
If you want to play bird spotting with your children on your patio, you're not going to go wrong with some pots of bee balm or hollyhocks – they attract hummingbirds! Imagine the delight on their faces when they spot a hummingbird in the garden!  Geraniums and petunias work well too.
Lavender is a favourite of insects such as bees and butterflies, which is perfect as you'll already have that for the sensory element, and black eyes susans look striking and attract insects too.
Of course, if you attract the insects, you'll be attracting the birds, so you can spend many happy afternoons with bug books, binoculars, magnifying glasses and notebooks with your kids spotting all of the amazing creatures that your pots or raised beds attract. Who said you need a grassy backyard to get up close to nature!?
Add Seating To Your Patio Or Concrete Backyard
Seating might be tough to add if your space is small, but the kids won't care if it's stylish or not the latest wicker 70's peacock chair or corner sofa! But the odd wooden stool keeps them comfortable, and will most likely become a useful item for craft making and games, all of which are much easier to do outside if you have some seating.
These step stools from Growing Up Green are both a step, and a seat all in one! Plus, they're made from bamboo, which is a sustainable material and it's chemical-free too. A couple of these lying around the garden will look super cute and if your kid doesn't use it as often as you think they would, they're pretty enough to pop some plant pots on! 🙂 Otherwise you could add rugs and floor cushions to make a pretty and comfortable boho vibe kinda space (like every day is picnic day)!
And we had one of these benches in our last home and I miss it all the time! Ours was from Ikea but it was nearly identical (the price is similar too) and the girls used to use it ALL the time, from craft making to painting to tea parties and more!
They used to get a little sensitive to our grass in our last home, I think it was treated as it was a resort home on a golf course, and I think it irritated their skin. So if you have sensitive little ones too I massively recommend one of these, I promise it will get used! (and also doubles as the prettiest planter bench)! Click the image to view it in full size. 
Chalkboard walls were popular in hipster houses for ages but they've kind of faded away now (remember chalkboard paint)!? and they've been replaced by chalkboards outside! Which lets face it is a far better idea PLUS it gets the kids outside!
Time to grab the outdoor chalkboard paint again!
Use Lighting And / Or Bunting To Create Magical Spaces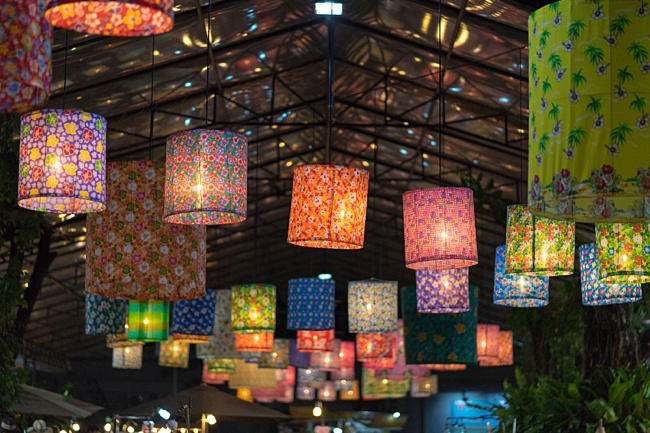 Ahh, who doesn't love a string of outdoor lighting!? Whether you go for naked bulbs like hipster weddings or fairy light enchantment (hello)!, lights can make winter mornings and dark evenings seem extra magical for kids. They also help to define a space, so, if your patio is big enough, you can segregate a particular area using lighting, bunting or flags.
This helps your kids develop responsibility and a sense of pride, having their own area to take care of and proudly display! Having seperate areas within your garden is also pleasing to the eye and gives your patio some definition, rather than just an unplanned 'space' in the middle with all of the elements around the edges! A well thought out and purposeful garden that makes the entire family happy will have well defined areas, whether that's areas of different height, raised beds, older and new elements, DIY and chic new pieces, and a distinct style.
A defined kids area can help provide that definition – of course, it's nice that the entire garden belongs to everyone, but kids LOVE having their own space too!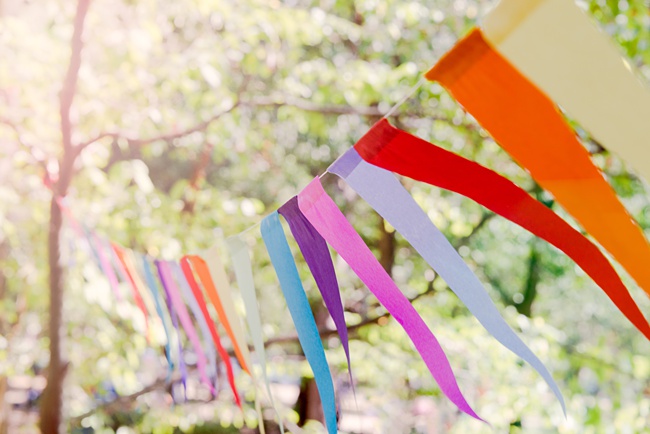 Birdhouses And Beehives
No kid's garden would be complete without a birdhouse! Grab plain simple ones that your child can decorate, or DIY one with some leftover plastic bottles.
Can I Put A Beehive On A Concrete Patio!?
As for beehives, surprisingly you can position them near to your house without issue, even as close as 6ft away!
The main consideration when adding beehives to your garden is that your bees are not disturbed, which might cause them to swarm. So if you have pets or young children, beehives will be a no-no unless they are positioned up high in a tree (and ideally as out of reach from little feet and paws as possible).
If you have older kids though, you can position one at the end of your garden for an exciting addition to your outdoor space!
And obviously, if you get honey-producing bees, you get to make your own honey. Which I think is probably the best thing ever.  If I didn't live in a rental I would 100% have bees at the end of my property. I 100% was probably also a farmer's wife in a former life seeing as I'd also happily have chickens, goats, and horses too. And maybe a cow called Daisy.
I also think it's amazing you can actually purchase a full-on beehive from Amazon! Click the image below to see it in all its glory (and maybe get one)!
If you've got kids, you've got floor chalk somewhere! If not, grab yourself some, it's the best and our girls have used floor chalks in every house that we have lived in. They've drawn giant dinosaur murals on the walls of the house (it comes off when it rains)!, written stories on the floor, drawn family pictures and written first words.  You can write positive messages, words of affirmation, create 3d photos like the one below, and more! I love the idea of writing a 'morning message' on the balcony outside every morning for the girls.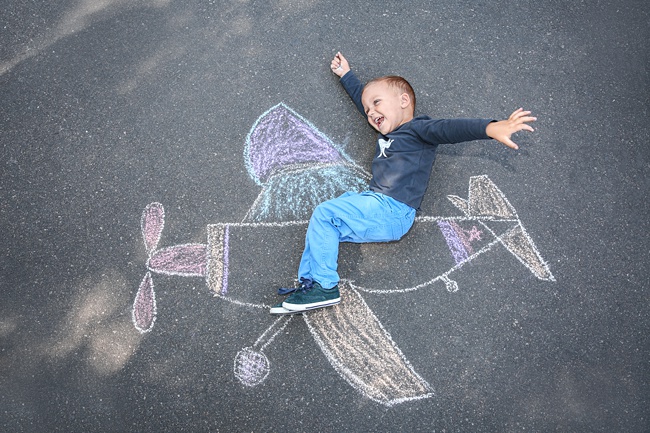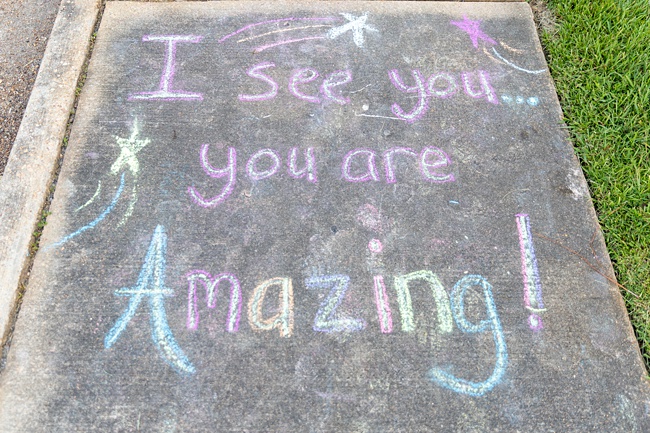 As 'unschoolers' I don't force my kids to 'learn writing' instead trusting that the process will unfold naturally, and having pavement chalk has been one of those things that's really helped my girls to learn to write of their own accord. Plus, pavement chalk lasts forever!
And then there's the ever trusty hopscotch to draw on the ground once they've run out of picture ideas 🙂
Can I Put A Wendyhouse Or Playhouse On Concrete!?
If you add interlocking rubber floor tiles to your concrete patio, you can create a safe (and softer) outdoor floor experience that's perfect for kids tents, teepees and wendy houses! These are built to withstand all weathers, and they even out your concrete or patio, and are anti-slip too. To go underneath a play tent of average size approx 1m x 1m, you will need to purchase one pack of rubber flooring with tiles that are approx 19 x 19 inches.  These tiles will help safety proof your patio or decking area!

A tent or playhouse is the obvious choice for any garden space, but they needn't be expensive. This cute teepee tutorial works out at under $20 and would look amazing on a patio! The neutral color works for any space or you can have fun with your kids applique-ing or handprinting the fabric, depending on their age.
Simply add rocks around the fabric to stop it blowing away, add some cute potted plants around the edges, and throw some cushions inside and you have a daydreamy place space on your patio, no lawn required.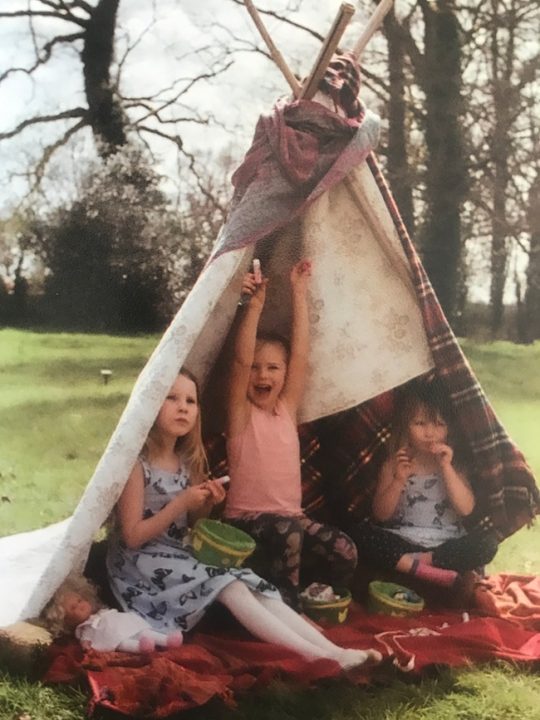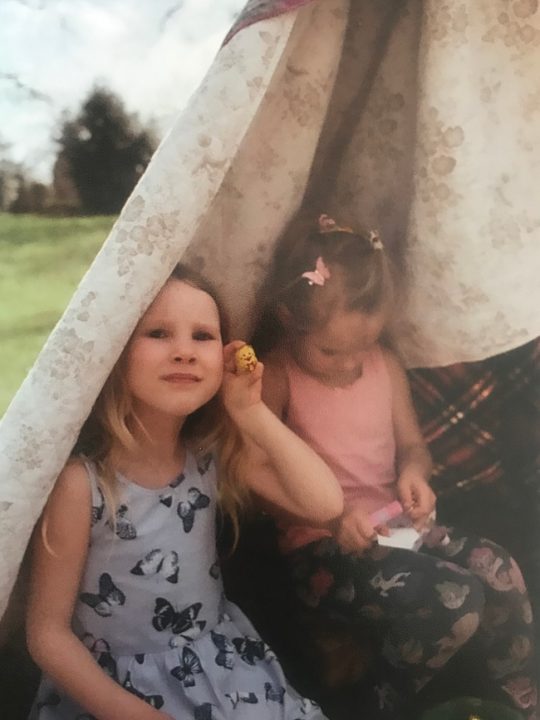 I made this one a few years back from vintage blankets and although it was on the lawn, the girls had so much fun playing in it that I'm going to make them another one soon because there's no reason it won't be just as magical on a patio!

The images are a bit blurry as I shot them on film and then had to snap the prints on my phone for this post, but those vintage blankets though!!!
Add Windchimes
Windchimes make a beautiful sensory addition to your patio and help to make it more of an enchanting space. According to Forest Homes, windchimes tones' and vibrations are powerful as they can help calm our minds, soothe our nerves and and discharge our built up stress.
I think then that these are going to be extra useful during lockdown, extreme health measures and world in crisis, to help soothe our kids (and ourselves). Some people dislike the sound of windchimes I know, but I find them magical. They're also a super easy way to add a pretty and mindful element to your patio space.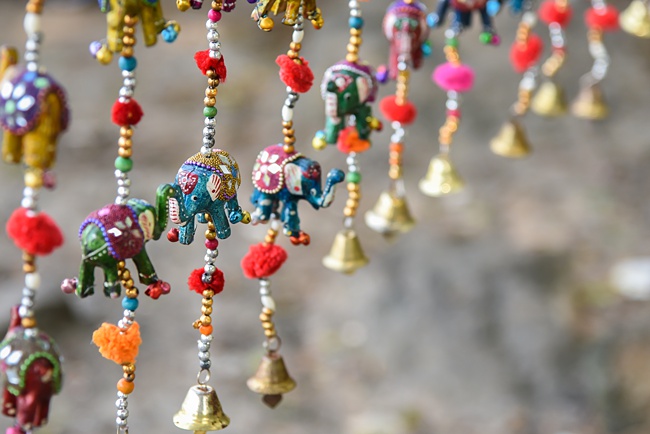 Decorate Trees Or Branches
We have an olive tree in our garden that since about April has been ready for Christmas!  As part of our homeschooling we very loosely follow some Waldorf school ideas we try to celebrate local customs and traditions, and celebrate nature. So I was super happy to find a book in English recently celebrating all the traditions of olive trees, and the girls loved it. And promptly ran outside to decorate one of our olive trees 🙂
At their little waldorf school they used to attend there was always a tree decorated with magical objects, windchimes, ribbon, dried fruits and other things. You can decorate your branch with anything from ribbons made from old reusable shopping bags to suspending your kids old toys – crystals to christmas decorations!
Create A Climbing Wall
Who says you can't have a climbing area just because you don't have grass?! You can put down interlocking rubber tiles for safety, or use sand or woodchip to create safe areas for your kids to fall on to. If you have the space, a concrete garden is no reason not to have a climbing wall for your kids, especially if they love to climb, and they work well in smaller spaces too as a great form of exercise when your yard isn't big enough for them to run around!
Create An Outdoor 'Kitchen'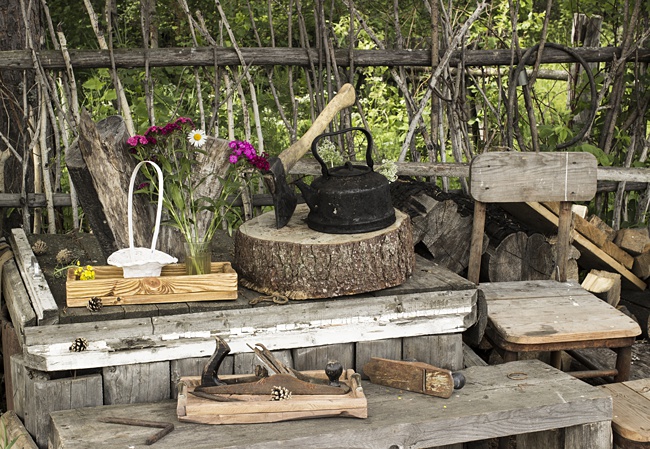 I don't think any 'how to make a concrete patio kid-friendly' list would be complete with an outdoor kitchen! So if you'd rather your kids cooked than climbed, an outdoor kitchen is super easy to DIY against an existing fence or wall.  You don't need the typical 'cooking utensils' type of kitchen – kids play pretend with whatever they have to hand! Old baskets, bits of wood, etc (note – obvs, don't give your kids an axe like in this photo, lol).
This mud kitchen is PERFECT, montessori inspired, and so easy to make using some old pallet wood, a few concrete blocks, and an old piece of MDF and a splash of paint.
I'm not sure the girls are ever going to outgrow having an outdoor kitchen… well, I don't think I will!
Make a Log Slice Path
Log slices popped on to your concrete or patio give a child friendly, natural feel to a concrete space. As well as using them as pathways log slices can also be used as tiny tables, drawing boards, and goodness knows what else.
Plus they're cheap to buy and simple to pop in place, and you can move them around too. Log slices are great for making a concrete patio kid-friendly!
Make A Water or Instrument Wall
I've popped these two in together a they both involve the same thing, hanging objects from a wall or fence for kids to play with! Find old containers or instruments at yard sales or charity shops or even cheap on Amazon – bells, recorders, and even saucepans work well depending on your child's age! keep an eye out for more unusual instruments too such as African drums, cymbals, wooden whistles – and of course, add your windchimes nearby.
Add Fairy Gardens or Fairy Doors To Your Concrete Backyard Patio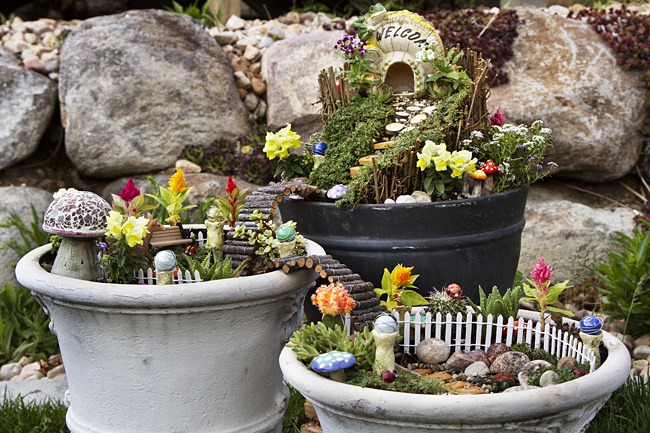 Oh the amount of fairy gardens my girls have made! We seem to make one in every house we stay in! But don't fork out for those big expensive kits – you can easily create a fairy garden cheaply using items you already have at home.  We've used with wooden blocks (steal you jenga set), wooden slices from craft kits, cardboard boxes, seashells make great ponds, lolly stick fences, stones, and plant leaves for trees! Stones make boulders, playdoh furniture, pine cone sofas and so on!
Your kids will spend HOURS making these and they'll look cute in your garden too, just make sure your fairy house or door is placed to one side, not in the middle of your patio where it might get stepped on or knocked over. If you have flower borders, these are great places to nestle a fairy garden, or you can hide smaller one inside flower pots and raised garden beds. Of course fairy garden doors can magically appear next to your own doorway too!
Make A Kids Potting Bench
If you're surrounding your patio with potted plants, you're going to need a potting bench, and your mini-me will probably want one too! The bench on Amazon above makes an ideal kids potting bench, all you need to add is a kid's tool set, some pots of their own and some seeds.
Make Garden Art For Your Patio Space For A Kid-Friendly Vibe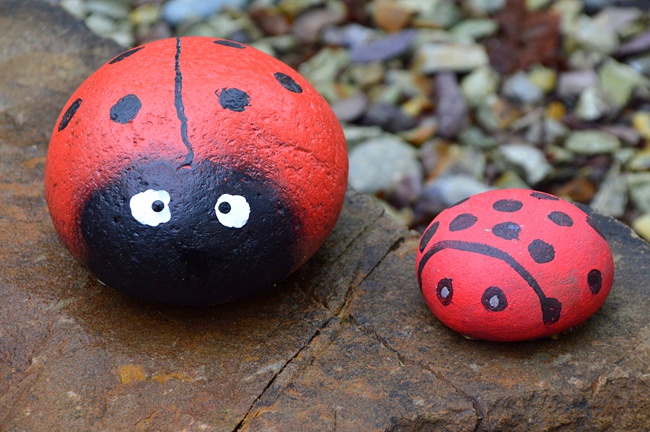 Apparently when kids see their artwork displayed by their parents it boosts their self esteem, so don't just confine their art to the house- get it outside too! You can do simple art projects together such as painting rocks, or more intricate detailed ones such as mosaics with broken vases, mirrors, ceramic or china waste from your home.  Another thing we've loved doing is DIY'ing and upcycling household items to use as planters! (Check out this massive list of 75 items you can use)!
The list of art projects you can create is of course endless – you can get ideas from this list, or head on over to Pinterest (where else)!? for more.
Host Seasonal Events
You can celebrate seasonal events such as May Day, Harvest, and even have full moon viewings and stargazing from your patio – there's always a reason or event to get kids outside. Load up your potting bench with harvest food and plan games like apple bobbing, or decorate a tree or fence post with ribbons for May Day.
Create Places Where Wildlife Can Thrive!
These are simple additions to any patio but make being outside in a small space fun, interesting and educational for kids. We've made bug catchers from ice cream tubs, caught lizards in jars, and goodness knows what other bugs here in the Mediterranean. But having a dedicated bug hotel, ant farm or wormery is fascinating to watch!
Even better they are inexpensive to purchase and don't take up much room, so they're great for small concrete backyards or patios.
A caterpillar sanctuary works too, and I loved teaching kids about transformation, change, and the many lessons within that! Plus of course you get to see beautiful butterflies.
While we are on the subject, a hedgehog feeding station is another way you can show kids how to care for local wildlife, and you don't need a garden or lawn for our spiky friends to run across – they don't mind patios!
Create A Mindfulness Space
I love the idea of making a calming garden space for kids to practice yoga or meditation in. This post has a ton of ideas on how to bring more zen into your garden. But you can start with calming sculptures in spherical shapes, large smooth pebbles, a sand garden to aid meditation, and of course some windchimes and a yoga mat or two, and some floor cushions, you'll have a great, calming patio sanctuary to retreat to. I've been meaning to do this on my balcony for the longest time!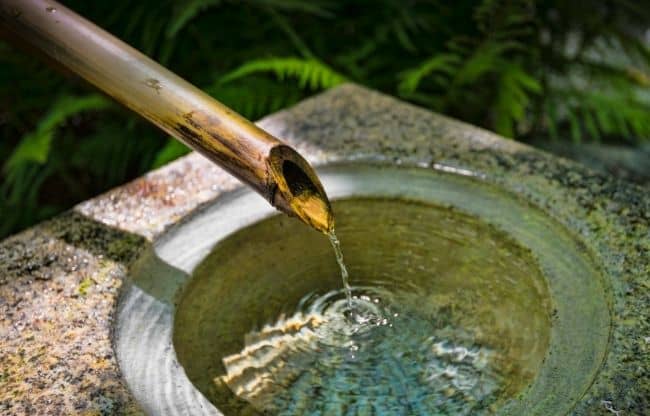 Plant Windmills
This one needs no explanation, windmills are perfect for patios and for kids and adults 😉 of all ages. What could be more cheerful than planting windmills in your garden, or even having an entire collection of potted windmills?
You can even make the windmills together with your kids one afternoon.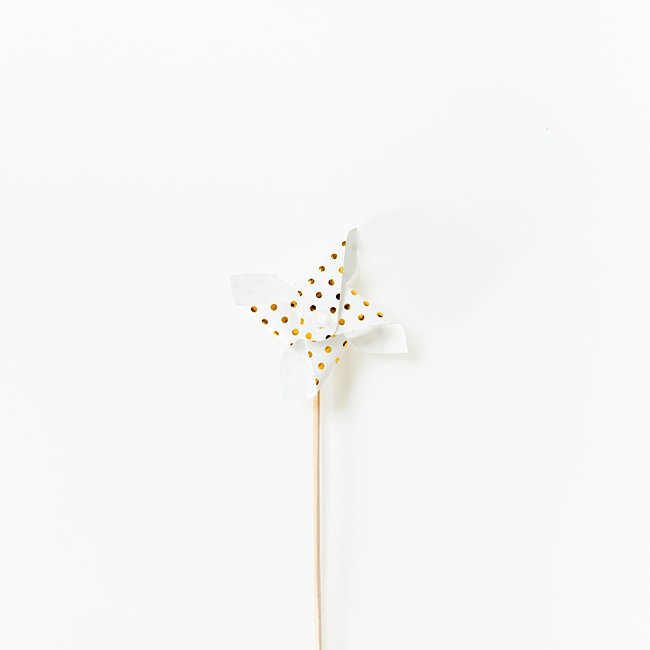 Make A Digger Garden
This one isn't going to win the prettiest patio award, but it's going to make younger kids super happy. I have to give my sister in law full credit for this idea, I'd never even heard of a digger garden before she told me about it! It's basically a big pile of earth or sand, some rocks and tree slices or logs, and some big toy trucks thrown in. And the kids LOVE it!
So, that's my roundup of ways to make your concrete patio kid-friendly (and create a safe outdoor play area too that looks amazing for the whole fam). If you've got any more ideas, I'd love to hear them – leave me a message below!