Corners are often overlooked quiet spots in your garden where the only gardening limitation is your imagination…and the amount of sunlight the area gets! After our recent super successful small tropical garden experiment that we made in a corner, I have been thinking about other ways to use outdoor corner spaces effectively.
The benefit of corner spaces is that they are often sheltered. Corners are the ideal, structured spaces to grow outdoor plants that will benefit from protection from the wind. Even beginner gardeners can transform a dull corner into a feature area.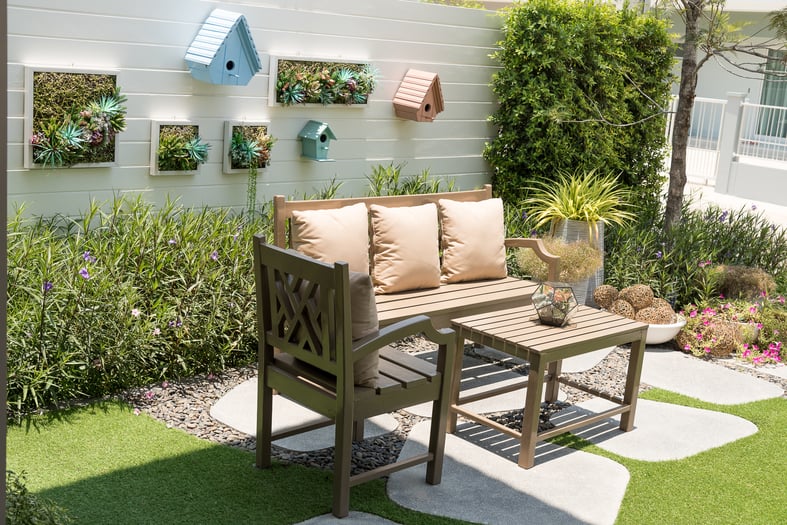 All too often, outdoor corner spaces become reserved for storing the outdoor dustbins and bric-a-brac. I'm here to tell you to go and take a look at the outside corners of your yard because a new gardening adventure awaits. You are going to LOVE transforming your corner space.
40 Corner Garden Ideas For Beginners
Most of us don't have the finances to have our gardens professionally landscaped, so when we have a vision, it will mean some creativity and getting our hands dirty. Fortunately, corners are a lot of fun to work in, and I found plenty of simple ideas that will suit every budget and gardening level.
Here are my top 40 corner garden ideas for beginners (I wish I had more corners to try some more of these!)
Put in a decorative wishing well – Add some magic in a quiet corner of the garden.
Include a bird bath – In corners where the fence is low, adding a birdbath is a great way to keep a constant supply of little feathered visitors to your garden.
Create a tropical corner – We still love the tiny tropical corner garden we created and keep finding new spaces to fit more pots.
Make a Zen corner garden – Corners are an ideal space to create
Use a water feature. Most Zen garden ideas should include a running water feature, but if you want to keep things more low-key, use an old bathtub or horse bucket filled with water plants.
Upcycle a large item to create a corner focal point. An old bicycle or wagon wheel or even an old stepladder! Then arrange your pot plants on and around it to create a work of art.
Add a trellis and grow a climber – Empty corners can look much fuller when they are covered in plants. A trellis can easily be attached to most fences or walls. Rose lovers like me would never pass by an opportunity to grow another rose, and there are many varieties of gorgeous rambling roses or climbers that will look pretty in a corner.
Paint the walls to contrast or complement the plants you want to use.
Put up a backdrop – Use your imagination to find something that will complement the look you want. I fastened a natural cane backdrop for our tropical garden to cover the white walls. If you can't paint the walls of your corner
Put up an old doorframe – Like window frames, old doorframes can be gold for outdoor gardeners. Even better if a door is still attached so your kids can play imagination games in the garden. Add a large planter on either side of your door feature, so it is secure and looks more balanced.
Use old window frames – I especially love the ones with shutters, although they can be tricky to get your hands on. If you have old wooden window frames lying about or see any garage sales, snap them up. A lick of paint in a fresh shade will make your corner space a magical portal.
Add a garden bench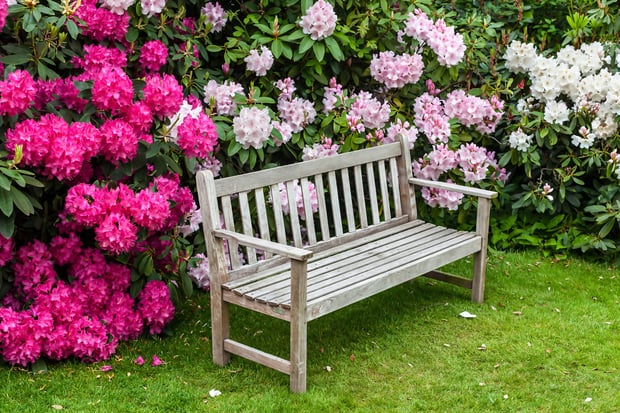 Add solar windchimes – Corners areas tend to look dark first at sunset. I received this gorgeous wind chime as a gift, and I love seeing it twinkling magically as the sun goes down.
Install a bug hotel – An excellent nature project for the kids!
Add a bird feeder to attract some colorful feathered friends.
Use hanging baskets – If you have something overhead to hang them from, adding hanging baskets is a great way to add height in corner spaces.
Add stepping stones or a pathway to your corner garden. Make your corner space a garden feature by making it look inviting.
Corner Garden Ideas With Pots
Make a plant wall – Unless you are specifically going for a shabby-chic look, simply spray paint all your small pots the same color, drill small holes in the tops, and hook them up on the corner walls. (Make sure there are plenty at eye level!)
Plant a mini-fruit orchard in pots. Not all fruit trees will thrive in pots, but some types of citrus don't mind being in containers. So long as your corner gets enough sunlight and warmth, you can fill your corner garden with a mini-citrus grove.
Make a pretty herb garden – If your corner gets enough sun, it can be a fantastic, sheltered spot to fill pots of all sizes with glorious fresh herbs.
Add a large feature container as a centerpiece to fill a corner. It can stand alone or use smaller pots on either side to fill the space.
Stackable planter – A stackable planter can work really well in a corner space. The primary consideration would be the amount of sunlight the area receives, so you would need to plant accordingly.
Flower pot corner – Grab all the pots you have and upcycle items, great and small, to fill your corner space with colorful flowers. Add a uniform layer of pebbles around the base to give the area a cohesive look. This will also keep the pots higher off the ground, so water can drain through properly when you water.
Corner Garden Ideas With Rocks
Make a rock garden – For super sunny corners in the front or back of your yard. A rock garden is always a low-maintenance, water-wise, neat winner.
Add a firepit – Corner spaces often offer protection from wind and sometimes be made into outside entertainment spaces.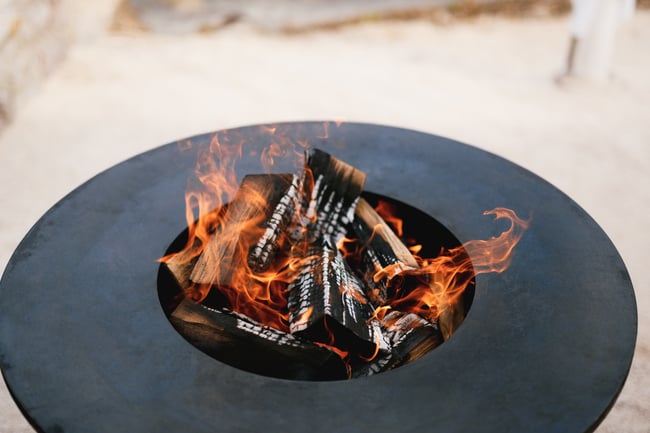 Add a natural stone wall – Fortunately, this does not involve digging foundations and hauling tons of rocks! There are many excellent cladding options available that can transform a boring brick wall into a storybook castle.
Add a colorful umbrella – Include a solid concrete base amongst a pebble base. Each time you need an instant pop of color, open your super bright, summary umbrella, and voila, the back corner of your yard will instantly come alive.
Backyard Corner Garden Ideas
Add a pergola – it doesn't have to be extravagant, and it will make your garden corner feel like a cozy recluse away from the house.
Make a compost pile – The bottom corner of the property is an ideal place to create a compost pile. It doesn't have to be an eyesore, so don't worry. Keep it small, neat, and well-maintained. Just think of all that rich natural fertilizer you can make for free for the rest of your plant collection!
Add height – There are plenty of ways to elevate an awkward garden corner (literally). Building a raised rose bed is just one excellent idea to fill the corner.
Make it a reading corner – all you need is shade and a comfy chair. This works particularly well if your corner includes a large tree (even a palm in a pot will do!)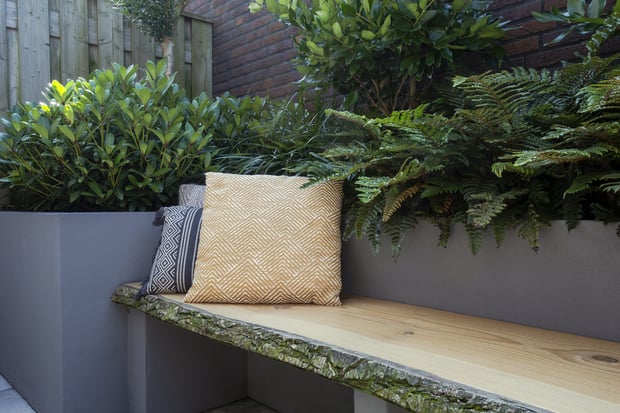 Hang a hammock – If your side walls are strong enough, you could have the coziest spot in the garden.
Create an outside picnic space. With some imagination, colorful bunting, and a flat patch, your corner can become a comfortable year-round picnic spot.
Create a memory area – We all have special people and pets that have passed on. While life goes on, a quiet corner in your garden that includes some special plants in the memory of their lives can become a place of reflection.
Make a mini greenhouse – A corner area in your backyard is perfect for creating a mini-greenhouse! Options range from super-simple to DIY to ordering little prefab kits.
Shaded Corner Garden Ideas
Add an outside mirror – This is one of the best tricks to make a small garden or awkward corner look instantly bigger and brighter. Take note; this is not any mirror – outside mirrors have a special safety film and are weatherproof.
Include some solar lighting – We often avoid using the yard's corner areas because they seem dark and gloomy. A few well-placed garden solar lights can make your corner space seem much more inviting.
Add fairy lights on larger plants – Even a single feature plant in a corner will look impressive at dusk if it is covered in fairy lights.
Make a fairy nook – I mean, what garden doesn't need a special place where the fairies sleep?
Fill it with roses! (you didn't think I would leave this one out, did you?) Some varieties of roses can do well in pots in shaded areas.
And there we have it! Forty ideas to make beautiful corner spaces that even beginner gardeners will love creating.