There is nothing quite like the delight of harvesting fresh produce that you have grown yourself. No matter how small your apartment may be, fresh herbs can always be on hand if you have the right setup to maximize growing space. And you don't have to have a green thumb or be an expert gardener or to set up a thriving kitchen herb garden – let's dig right in!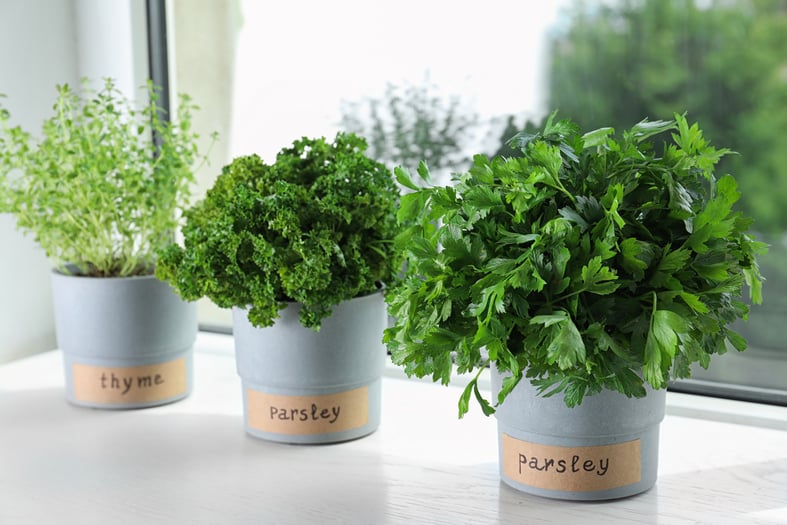 Most of us don't have enough space to grow vegetables like cabbages, carrots, or cucumbers inside (no matter how much we would love to!), even if we don't live in a small apartment. Fortunately, there are some ingenious ways to maintain a thriving herb garden, no matter how limited space is.
Small Indoor Herb Garden Ideas
Living in an apartment is no longer an obstacle to growing your own supply of kitchen ingredients. Instead of ornamental plants that only provide dabs of greenery, it makes sense to grow plants that provide a decorative and culinary purpose.
 Herbs tick all the boxes – they are small, easy-to-grow, no-fuss plants that can be mixed and matched to set up an attractive and useful (not to mention healthy and delicious!) apartment garden.
There are some considerations and limiting factors that need to be considered when planning any inside apartment gardening project:
Limited space – The best way to grow a plentiful supply of fresh herbs in small areas is to think vertically. Even with limited countertop or windowsill space, some clever solutions exist to grow an indoor herb garden.
Available light – most herbs require a good amount of sunlight.
Mess – Enthusiastic gardening can become a bit messy in small spaces
Airflow – Spaces with little or no air movement can be ideal habitats for plant pests like spider mites. A fan or breeze from a window can be helpful.
Temperature – The temperature inside an apartment will be consistently mild, but it is something to keep in mind when selecting plants.
Let's check out eight attractive and practical indoor herb garden ideas.  
1. Stackable Planters Work Well When Space Is Limited
When you need to maximize your growing space in a neat, no-fuss way, few things are better than a stackable planter. These nifty planters are available in different sizes and are ideal for apartment herb gardens.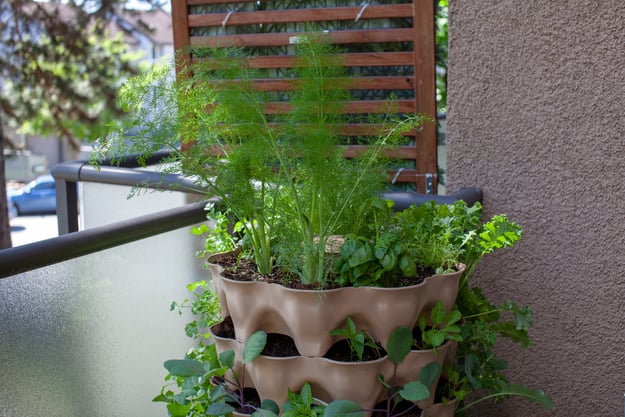 Plants can be arranged according to the amount of light that they require. One slight disadvantage, if you keep your herb garden planter indoors only and don't have a balcony, is that it may need to be rotated periodically so it doesn't only get sunlight from one side. Fortunately, many stackable planters come on wheels, so turning it isn't a problem.
By planting strategically, herbs like parsley that need slightly less sunlight can be grown successfully on the shadier side. Thyme must be on the side that receives full sun.  
2. Create A Hanging Herb Garden
If you don't have a lot of floor or counter space inside your apartment, look upward! If you have a curtain rail or any way of suspending hanging baskets, especially in front of a sunny window, you can quickly have a thriving indoor herb garden!
Hanging planters for herbs don't have to be expensive. In fact, with a bit of creativity, lots of household items can be upcycled to use as planters to hang in front of sunny window spaces. Many herbs do well in hanging baskets, so use your bright window areas to maximum effect.
3. Plant Stand With Grow Lights
If you love having an abundant herb supply and don't want to be limited to crowding your herb collection around your kitchen window, a plant stand with grow lights is a great solution. This all-in-one solution won't use loads of electricity, and your herb collection can be set up neatly anywhere in your apartment.
When choosing a plant stand for your herbs, look for one with adjustable shelves. While most culinary herbs stay small, some, like lavender or rosemary, can get tall. They may require a bit of additional breathing room between the layers.
4. Hydroponic Herb Gardens
In small apartment spaces, one of the limiting factors to keeping a lot of plants can be the possible mess of soil or carrying heavy pots in and out. Many herbs, like cilantro, are fast-growing and only last a few months before they need to be replaced.
Hydroponic herb gardens have become a trendy addition to many apartment kitchens. Simply slip a seed pod into the growing medium and watch as your fresh herbs supply blossom without ever needing any soil.
5. LED Indoor Grow Lights
If your apartment doesn't get enough natural sunlight through a window, you may think your herb garden project is doomed. Most herbs do need a steady supply of light to thrive.
Fortunately, you don't need a large sunny area or an open balcony to grow many plants successfully indoors. There are any number of grow light options available that can maximize growing space in even the smallest apartment.
This tripod LED grow light array from LECLSTAR can light up large areas and make your herbs feel like they are in a greenhouse all year round. Simply group your plants to reap the benefit; your herbs will thrive even if they aren't on a windowsill.
6. Vertical Wall Garden
A quick tour through Pinterest will unlock a world of ideas for anyone struggling to find space for their herb collection inside. Vertical wall gardening is becoming increasingly popular, and an established plant wall can be breathtaking.
When creating a vertical wall garden inside an apartment, the most essential element is ensuring that there is sufficient light. The herb wall might need to be teamed up with an LED grow light system if it isn't in a sunny position, but with technology on your side, you may never have to buy fresh herbs ever again.
7. Indoor Garden Ladder Shelf
A herb garden set out in neat pots on different levels on a ladder is practical and can also look great. Ladders can be used in many ways when making an apartment herb garden.
Stand the ladder vertically with pots arranged on each rung or suspended horizontally against the roof to provide ample additional hanging space for hanging baskets. Instead of banishing your step ladder to the garage, check if it isn't exactly what you need in your kitchen to save space and group your indoor herbs vertically.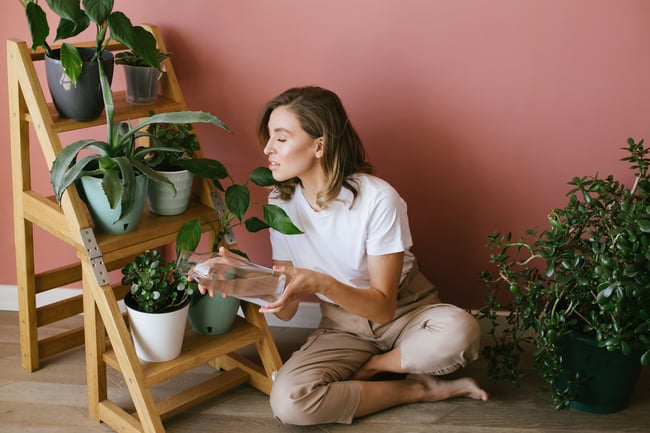 If your ladder doesn't fit the look you're going for, take a look at the ladder plant stands from Target. There are several gorgeous alternatives and unusual designs, all of which will work well to group your herbs.
8. Indoor Herb Garden Kits
Indoor herb kits are available that can elevate your apartment herb growing experience. Each set is a masterpiece and comes with growing medium, seed pods, timers, and grow lights.
Good Housekeeping has created a collection of their best indoor herb garden kits to make choosing easier. There are a variety of comprehensive options that are sure to result in designer indoor herb gardens. Whether you need a super small single herb setup or a slightly larger herb tray, there are indoor kits that will get you excited about herb farming!
What Herbs Grow Best Together?
Herbs that grow well together have similar light and watering requirements. Pasley, basil, cilantro, dill, and tarragon can thrive together, and they may even enjoy being planted in a self-watering pot.
Thyme, rosemary, oregano, and lavender prefer drier soil with a lot of direct light. They are perfect herbs to plant if you have a very sunny window area for your indoor herb garden.
Which Herbs Should Not Be Planted Together?
For an indoor herb garden to succeed, it is important to understand the needs of each specific plant. Although they may all be called herbs, beautiful aromatic lavender and rosemary require slightly different conditions than, for example, parsley or cilantro.
When planting an indoor herb garden in a small space, focus on keeping dry Mediterranean-type herbs like thyme and rosemary away from plants that need more watering and richer soil.
| Full sun and less watering | Tolerate partial shade, require more water |
| --- | --- |
| Rosemary | Parsley |
| Thyme | Cilantro |
| Sage | Dill |
| Oregano | Basil |
| Lavender | Tarragon |
Keep mint in a separate planter from other herbs, as it has a way of taking over. It is lovely, though, and provides a gorgeous scent, so mint is a must-have in any indoor herb garden.
Which Herb Is Easiest To Grow?
Even novice gardeners should have no problem growing many sorts of herbs. So long as they receive sufficient light and aren't drowned with too much love (we all love watering our plants!), many herbs are very easy to grow.
Beginner gardeners can start with the following:
Basil
Thyme
Parsley
Mint
Oregano
Sage
Once you've had a bit of practice and established your indoor herb garden, you can move on to slightly more challenging indoor herbs like rosemary or even start growing exotic spices like saffron!
What Time Of Year Should You Plant Herbs?
The best time to plant an indoor herb garden is now! Unlike outdoor gardening, you won't have to wait until spring to get your luscious indoor herb garden flourishing.
So long as there is a comfortable indoor temperature and sufficient light, either from a natural source or grow lights, you can enjoy a thriving herb indoor herb garden throughout the year.