What could be better than having a patio filled with gorgeous roses? There really isn't much to keeping roses in patio containers; they always add an elegant touch to any space. As long as your patio gets enough sun and you choose the correct variety, you will be able to stop and smell the gorgeous roses each time you step outside.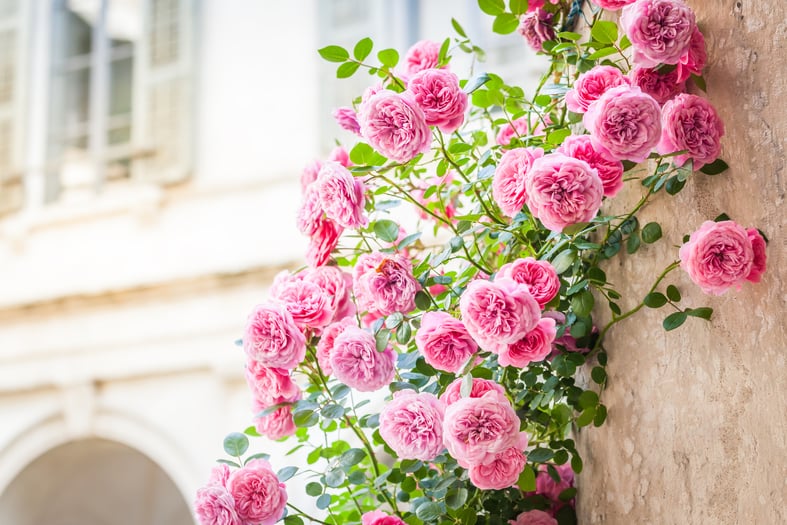 Growing patio roses is easier than you think. All you need is a large container and plenty of direct sun. Deadheading spent flowers will encourage more blooms. Container roses require regular feeding during the growing season and must be protected from icy winter weather.
Patios offer the ideal middle ground space between indoor and outdoor gardening. Best of all, keeping your beloved roses in containers means you never have to say goodbye to them if you move.
How To Grow Perfect Patio Roses
You don't need a garden to grow gorgeous, showy roses! You can grow them perfectly in pots on your patio. All you need is four things:
A decent-sized pot. The bigger, the better so that your rose will be able to fill out and grow. More soil also means it won't dry out quite so quickly in warm weather, and the plant's roots will be more protected during winter.
A suitable rose variety. Compact roses that won't grow larger than 24″ tall work well. Avoid large, shrubby, or climbing roses for your patio area. Your patio roses should look neat inside their pots. Keep in mind that you might need to move the container and store it during winter, so keep your patio roses compact and manageable.
Space for circulation. To grow gorgeous patio roses, make sure there is space between plants – this will also help reduce the chance of plant diseases spreading. Roses do not enjoy being squished up against other plants.
Plenty of sunshine. Your patio must get at least 6 hours of direct sun daily for your roses to thrive.
How To Plant A Patio Rose In A Pot
Once you have ticked off each of the four golden rules, it's time to get your hands dirty and start planting! Here's what you need to do to give your patio rose the best start.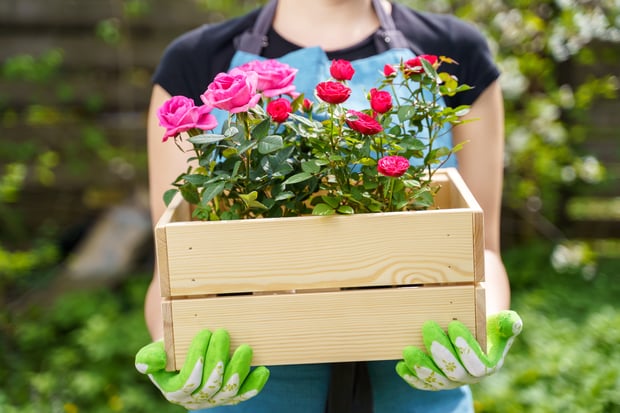 Pay attention to the soil. Roses need rich, well-draining soil, so a good mix will be two-thirds potting soil mixed with one-third aged manure or compost.
When your pot is about two-thirds full, gently place the root ball of your rose into the container and continue to fill with your soil mix. Leave a gap at the top of the pot for a layer of mulch.
At this point, you can add a layer of granular, slow-release fertilizer or use a liquid fertilizer later. Remember that producing masses of gorgeous blooms requires a lot of energy, so regularly fertilizing your patio roses is essential.
Next, water your new patio rose thoroughly. This is an excellent time to check that the drainage holes at the pot's base are open. Make sure that excess water runs out through the bottom. Roses need a lot of water, but they will quickly develop root rot if they stand in soggy soil.
Now top up the pot with a layer of mulch to help keep moisture in the soil.
Position your patio rose where it will receive plenty of direct sunshine – at least 6 hours a day.
TOP TIP: If your patio rose container will be standing on a solid floor, try putting it on a couple of bricks so that water can flow out through the base of the pot easily.
How To Overwinter Patio Roses
Unfortunately, summer doesn't last forever, and sooner or later, the cool autumn weather will set in, and it will be time to retire your gorgeous roses so they can get some well-earned rest. One of the best things about keeping patio roses is that it is easy to place them in a cozy, protected spot for winter and bring them out again each spring.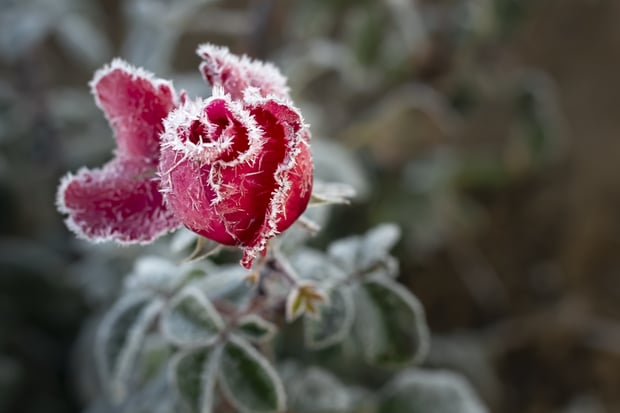 Roses planted in containers cannot tolerate cold conditions as well as those in the ground.
There are three ways you can keep your potted rose plants alive during the winter:
Insulate the pot. This may not look pretty, but if you can't move the container, try wrapping it in layers of burlap and piling on the mulch. Prune your rose right back and hope for the best.
Place the entire pot inside – even a garage or shed will do. The area doesn't have to be heated but should provide some insulation from the cold.
Bury your pot – if you have a garden, one of the best ways to overwinter your patio roses is to bury the pots underground. Vegetable gardens with loose soil work well for this. Once you have buried the pot, add a thick layer of mulch to act as a blanket for the winter.
Only water your potted roses during winter when the soil has dried out; water should be added sparingly.
How Big Do Patio Roses Get?
Some patio roses can reach 24″ tall, although if you choose a miniature rose, it will stay much smaller. How big your plant will get depends entirely on the type of rose you selected and the container size.
Not all rose varieties make good patio roses. Patio climbing roses can look gorgeous while in full bloom, especially if you have a particular feature for them to sprawl onto, but their larger size makes them a little trickier to keep looking their best. Stick with disease-resistant, small varieties that will deliver masses of glorious blooms but won't get too big for their pot or take over the space.
Keep your winter conditions in mind when choosing roses for your patio. If you live in a super-cold area, you will need to protect your outside container roses from cold, which usually means moving them inside for a few months.
Can Patio Roses Be Planted In Pots?
Patio roses are perfect for growing in pots. So long as the pot is large enough and positioned where it will receive ample direct sunlight, many smaller rose varieties thrive in pots.
If you live in a freezing region, you can pull the pots inside to overwinter – even a quiet space in a garage or shed will do. Alternatively, there are ways of insulating your rose's pot to give it the best fighting chance of surviving the icy season.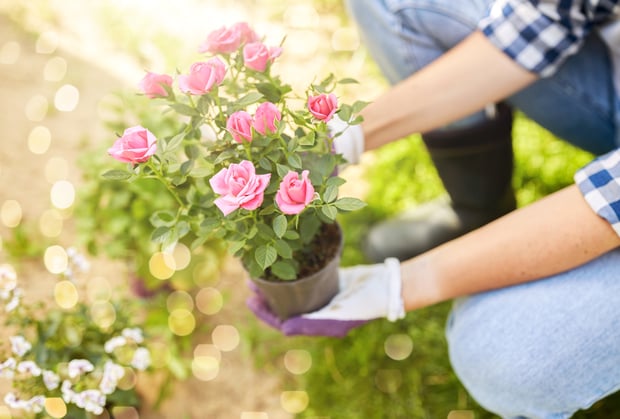 Do You Deadhead Patio Roses?
You should absolutely deadhead all your roses, not only the ones growing on your patio. Cutting off the old flowers doesn't only keep your rose plants looking fresh and neat; it also encourages the plant to send up new growth rather than wasting energy on forming the rose hips on tattered flowers.
Deadheading your roses makes them more likely to bloom again, which means more color and exquisite fragrance on your patio for longer. It also means that dead flowers won't spoil the overall appearance of your rose plant – spent rose blooms sometimes get a slimy brown look, and petals may drop off onto the ground.
The deadheading process is really easy:
Use clean garden shears and snip off old blooms.
Cut slightly above a healthy node on the stem that held the flowers.
You may only want to remove single blooms or snip off a mass of flowers.
If there is still enough time in the season, the rose plant should push up new, gorgeous flowers.
Do Patio Roses Repeat Flower?
Roses just keep on giving – part of their charm is that if it is the right season and spent blooms are deadheaded, the plant will continue to repeat flower. It is essential to provide enough nutrients to the plant, so it has the energy to produce more fragrant blooms.
A liquid or granular organic rose food should be added at least once a month during the growing season. It may be a bit smelly, but your patio roses will also love regular doses of liquid organic food like fish emulsion.
How Often Should You Water Patio Roses?
There is no exact rule regarding watering patio roses, except to say that the soil must never dry out. How often you need to water depends a lot on how hot it is, the size of the container, and the size of the plant.
Some top tips for watering your patio roses:
Only water in the morning when excess water has time to evaporate
Don't water the leaves – it's an invitation to rose pests
Keep the surface of the soil covered by a thick layer of mulch
Make sure the drainage holes in the pot are open, so you don't drown your rose plants
Dry soil is one of the biggest killers of patio roses (besides me, the time I almost showered my poor plants with weed killer!)  There are, however, some foolproof ways to ensure that your roses don't die of thirst if you have a hectic schedule and don't always remember to water.
Self-watering globes are nifty devices that your patio roses will thank you for! Simply poke one in next to your rose and refill it each time the water gets low. A more high-tech approach is to plant your patio rose in a self-watering pot.
 So long as your patio gets enough sun, there is no reason why you can't have a showy display of beautiful roses, even if you don't have a garden.