Rambling roses are like the shabby-chic members of the rose kingdom. On the one hand, they are enthusiastic growers with a go-anywhere attitude. However, they still produce masses of incredibly gorgeous blooms that continually remind everyone of their noble rose status!
Rambling roses require less care than many other types of roses, but most do not repeat flower. They grow vigorously and become very large. Ramblers produce masses of showy blooms in spring and summer. Most rambling roses are disease resistant and cope even in poor soil.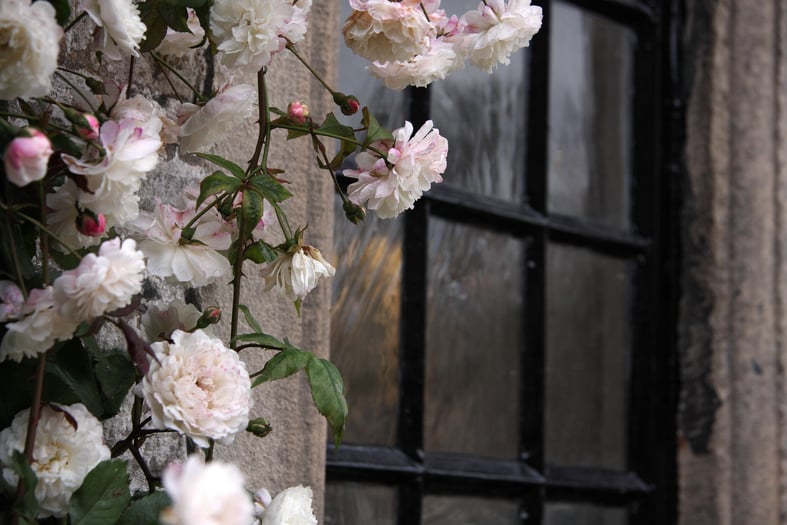 If you're like me, rambling roses immediately conjure up thoughts of romantic countryside homes and spectacular castles. These natural beauties can brighten up dull areas and provide gorgeous, colorful height if they are provided with support to lean on.
A Beginners Guide To Growing Rambling Roses
It is well known that rambling roses are hardy plants. Most of us have seen them sprawled out in gorgeous full bloom next to country roads or over fences where they receive little or no care.
This is good news for novice gardeners, but there is a catch. Unfortunately, although these delightful roses are easy to care for, they need loads of space.
Although it can be confusing, there are quite a few differences between climbing rose varieties and rambling roses that you can check out further down. Climbing roses are easier to train and can provide a charming, neat natural frame. Ramblers are better suited for informal, cottage, or traditional garden settings.
Now that you know a bit about rambling roses, let's get into where, when, and how to plant them!
Where Should I Plant A Rambling Rose?
Rambling roses do best in gardens where there is plenty of space to spread out. Ideally, they should be planted in places where they will receive full sun, although they can also cope with partial shade.
These delightful roses have an exuberance for life that can be a little overwhelming for part-time gardeners in limited spaces. Before you know it, your rambler may have covered a few of its neighboring plants!
Ramblers can work in long, narrow gardens where there is limited space but plenty of height, especially if you need to brighten up or hide a drab feature like an outside shed. The base of the plant doesn't take up much space, but the vines can get very wide and high.
You won't be able to train a rambler to stay as tightly against a wall as a climbing rose, but once it is established, it will provide a cascade of color. Best of all, unlike some other climbers, rambling roses don't damage brick walls.
When Is The Right Time To Plant A Rambling Rose?
Now is the perfect time to decide which rambling beauty you want to enjoy next summer! Rambling roses are often planted in autumn or early winter before it gets too cold. The bare, stick-like little specimen you plant looks nothing like the rambunctious wonder that will emerge in spring.
Although you can plant your rambler at any time of the year, putting them in before spring gives the roots a chance to acclimatize. You will see abundant growth from the first season.
How To Plant A Rambling Rose
Many rambling roses are sold as bare root roses, and all you need to do is dig a large hole and cover the roots with a mixture of good quality soil and well-rotted manure or compost. Since most ramblers are planted in the cooler months, add a layer of mulch at the top for insulation. That's all there is to it!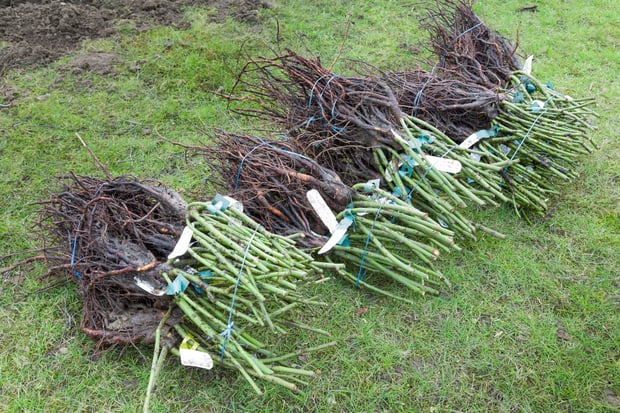 You can also plant rambling roses in large pots. Just keep in mind that the top of the plant will grow both high and wide, so it will need plenty of space. If you want your rambler to become entwined with a tree, plant it at least 3 feet away from the tree and not directly at the base.
Soil should be kept moist but must never become waterlogged. A general-purpose fertilizer can be added each spring, and a new layer of compost or manure should be applied every autumn.
Ramblers are notoriously tough and don't battle with diseases and pests as frequently as some of their more formal relatives. However, some nasties, like Japanese beetles and aphids, can zero in on these gorgeous roses, and swift action will be required to keep them looking good.
What's The Difference Between A Climbing Rose And A Rambling Rose?
The terms rambling and climbing roses are frequently used interchangeably (I am also guilty of doing this!) even though they have distinctly different features. Since both types require a sturdy support to stretch their long vines across and produce gorgeous roses, the confusion is understandable.
It turns out that there are many distinct differences between the two varieties, so before we go on, let's clear up the differences between these two beauties.
| Climbing Roses | Rambling Roses |
| --- | --- |
| Stay smaller than rambling roses | Grow bigger than climbing roses |
| Grow slower than ramblers | Faster growing |
| Larger, single blooms or clusters of flowers | Multiple small flowers per stem |
| May repeat flower throughout summer and fall  | Usually only bloom once during spring or summer |
| Need more attention than ramblers | Need less care than climbers |
| Stiff, arching stems that can be trained to stay in place on frameworks | Flamboyant vines that ramble |
| Require more care | Very tough and tolerant of poor soils and partial shade |
| Limited rose hips | Produce loads of rose hips |
| Better for small gardens | Excellent to cover unsightly objects or for large gardens |
Are Rambling Roses Fast Growing?
Rambling roses are incredibly fast-growing; in fact, that can be one of the hazards of keeping these gorgeous plants. Unless you keep them in check, they can become unmanageably large after a few seasons.
The delightful intertwining of the vines is what gives rambling roses their distinctive rustic charm. However, it can also become a headache when you eventually get around to tidying up that piece of the garden!
Do Rambling Roses Need Pruning?
Although the informal appearance of rambling roses is part of their charm and appeal, they can become untidy if they are left to their own devices for too long. These lovely roses don't require much attention or pruning to thrive, but they benefit from a bit of maintenance at the end of summer.
Cutting off gangly vines and lightly pruning before winter will help you manage the shape of your rambler, especially if it is covering a trellis or arch. Of course, you don't want to cut back too much and have to start over each season, so only nip off the spent rosehips and untidy bits.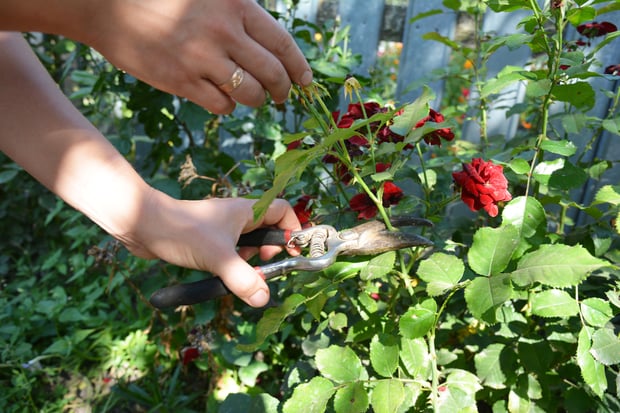 How Long Does A Rambling Rose Take To Grow?
If you are dreaming of covering an arch with rambling roses (isn't everyone?), it can take two to four years to turn the dreamy, blossom-covered romantic look you have in your head into reality. That may seem like forever, but ramblers are incredibly fast growers, and you will see your dream progressing even in the first growing season.
Rambling roses are vigorous growers and readily send out long gangly vines, especially during the first couple of growing seasons. These should be trained to cover a support so that once they are established, the rose can produce the masses of blooms they are known for.
Do Rambling Roses Need Support?
Rambling roses must be grown in places where the long flexible long vines can find support. Unlike traditional woody stemmed roses, ramblers can't support the weight of their foliage and blooms.
Without support, ramblers would become a tangled mess, spreading in all directions close to the ground. Fortunately, these easy-going roses aren't fussy about the type of support and will readily grow over nearby plants, fences, walls, or decorative features you make available.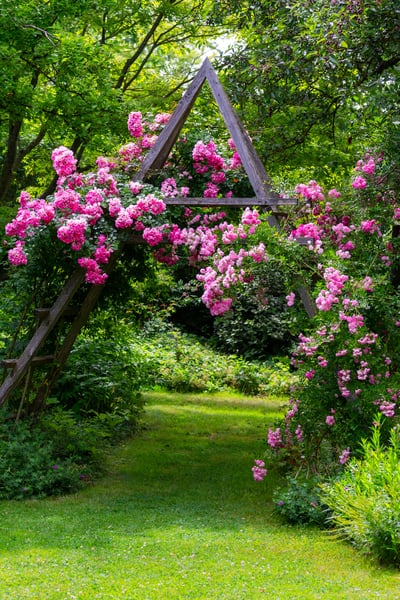 Although rambling roses require support, they do not actually cling to other structures the way many other climbers do. To keep your rambler neat and in position, the vines should be tied to your chosen feature.
Although you are probably going for the informal countryside look, your rose will be able to stay in shape and withstand high winds better if the long vines are tied to the support. The gorgeous aerial blooms will look lovely and quickly become a magnet for friendly insects like butterflies and bees.
What Can I Do With Rose Hips?
As you all know, I'm obsessed with natural ingredients. Let me let you in on a rambler secret – besides just the beauty of the rose blooms, many varieties of rambling roses produce an abundant supply of rose hips.
Besides the cosmetic uses, these tiny rose fruits are also loaded with nutrients and may be helpful for everything from reducing blood pressure to osteoarthritis. So while you may be disappointed to find out that ramblers usually don't repeat bloom, they produce masses of rose hips which can be harvested and used in the kitchen or as a natural remedy. Ramblers tick all the boxes when it comes to easy-to-grow, beautiful roses; on top of it, they provide masses of useful rose hips!