The world of succulents is highly addictive because gardeners don't stop at planting just one. 
These quirky, hardy little plants have a lot to offer and are just about effortless to care for!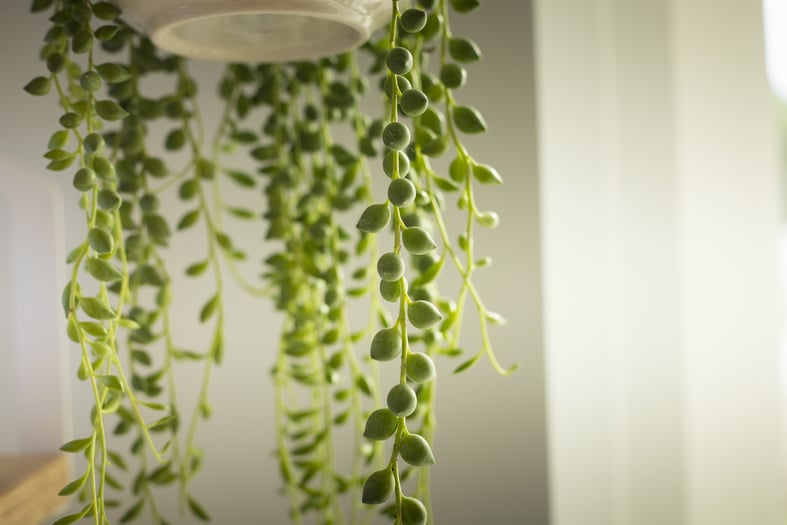 What Are Trailing Succulents?
Succulents are known for their plump foliage. They are native to arid habitats where water may not be plentiful. As a survival mechanism, these plants store water within the fleshy cells of their foliage. It's this stored water that causes the plant's stems and leaves to have a rotund appearance.
Among the many succulent species, trailing succulents are those that begin with an upright form. As they grow, the upright forms develop into long extensions spreading as ground cover or hanging. Hanging baskets or containers with these lovely plants is our way of incorporating their presence into our personal living and working spaces.
Trailing Succulent Types
Trailing succulents are known as either ground cover or hanging. They grow naturally as ground cover or hanging from rocky ledges. 
Ground Cover
As a ground cover specimen, these plants can take off covering an area with extensions. It's not unusual to find some popular hanging succulent plants growing naturally in the wild across the surface of the land.
Hanging
In the wild, "hanging succulents" refers to those growing between rocks, usually where ledges form. As the extensions of the plant grow, gravity takes hold and causes them to hang. However, "hanging" can also refer to a succulent with a trailing habit planted in a hanging basket.
Recommended Hanging Trailing Succulents
Below are several trailing succulents perfect as hanging basket plants or planted in a vertical situation. I use creative repurposed containers for my succulents to showcase their beauty and also add a bit of whimsy.
Indoors or outdoors in zones 10-11
Grows up to 4′ long
Light: full sun, partial shade
Features beautiful blooms in springtime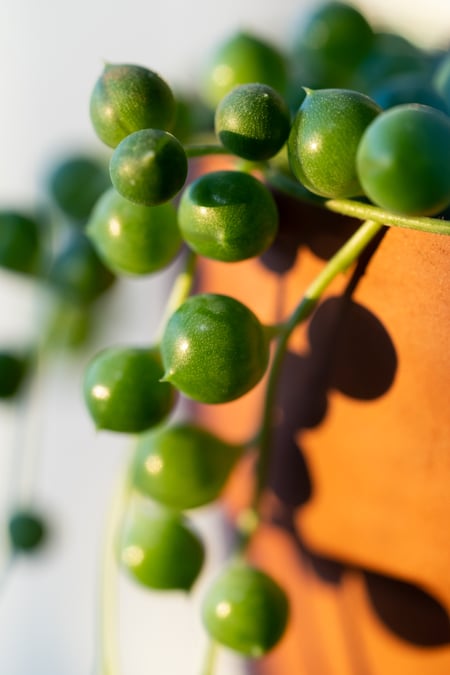 Indoors or outdoors in zones 9-12 
Grows up to 2′ long
Light: full sun, partial shade
Features: white discoid blooms with red stamens
Indoor or outdoors in zones 5-10
Grows up to 3′ long
Light: full sun
Features: yellow miniature daisy-like bloom
Hindu Rope (Hoya carnosa 'Compacta')
Indoor or outdoors in zones 10-11
Grows up to 3′ long
Light: indirect sun
Features: odd growth habit and lavender cluster blooms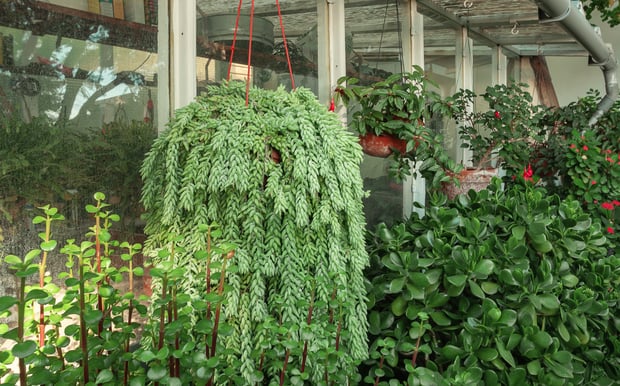 How Do You Care For A Trailing Succulent?
Succulents, in general, are fairly easy to care for. Place them in the right spot for sun and water them as specified, and that's about it.
Placement
Not all trailing succulents require the same amount of sunlight. Some may be prone to sun damage in full/direct sun, while others do just fine. The first thing I do when looking at any potential new plant is to look at the plant label's info on sun requirements. It helps me make a mental note of where the plant can and can't go in my home or outside.
The downside to acquiring a cutting from another succulent is there won't be a plant label to rely on, so I go online and do a bit of research to find out what the plant's parameters are. 
Do Trailing Succulents Do Best Indoors Or Outside?
Because succulents are natural outdoor plants, they will do well outdoors with the right placement. The same applies to indoors. As far as cold-hardiness, most are not, so they will need to be transferred indoors during the cold seasons.
I have a few small trailing succulents in flat, minimalistic planters on my bookshelves indoors just adjacent to a bright sunny window, and they do great. For small training succulents, I hung one over my sink in front of a window, and I also have one on my fireplace mantel.
One of the first things that crossed my mind when diving into trailing succulents was, "Can I hang succulents outside on my covered patio?" Believe it or not, they are flourishing and are gorgeous! They are not in full sun because they are hanging under my patio pergola.
Along with predetermining the placement of a trailing succulent, the intended container is just as important. 
Container
So, do succulents do well in hanging pots because they have a trailing habit? Absolutely yes! The full beauty of hanging succulents is highlighted as they grow in length. Blooms are prominently displayed on the hanging foliage, making them a statement plant wherever one may be placed.
As far as containers go, just because these plants trail doesn't limit gardeners to hanging baskets. The plants I have in flat containers on my bookshelves are pruned for two reasons. It prevents them from growing too long, and I use the pruned off cuttings to start more plants.
Soil
The type of soil used for succulents determines whether the plant will thrive or die. Succulents fail miserably in heavy planting mediums that retain water. I use a potting mix designed especially for succulents because it is the easiest and most convenient growing medium. 
I go a step further and add soil cover to my succulents. The effect colored soil covers add to a plant is gorgeous. I use fire ice or colored aquarium substrate to top off my growing medium. 
Lighting And Watering
Not all succulent species share the same sunlight and water requirements. Plant labels will have this information. However, if you obtain a cutting or the plant is missing a label, do like I do and do a bit of research on the specific plant's common name, taxonomic name, and also include "plant profile." This should bring up the numerous requirements of a plant. 
As a general guide, succulents don't like too much water. Watering should be done anywhere from once a week to every other week depending on the species.
How To Propagate Trailing Succulents
There is a generalized method for propagating trailing succulents. However, I want to be spot on with propagation for a specific species. Again, I did a bit of online research to get this information. However, if you prefer a more convenient method, I have a few steps to get a trailing succulent cutting going.
Acquire A Cutting
There are several ways to get a cutting. I have gotten mine from one of my well-established plants when pruning. Many succulent retailers sell cuttings which are far cheaper than buying all of the supplies for seeding or purchasing an established plant.
Plant The Cutting
I like to place about 6-10 cuttings in a large container or hanging basket. It's so simple to plant them. Fill the container with succulent potting mix. Place the cutting on top of the growing medium either by laying it down on the surface or inserting the end slightly into the medium. It's going to root regardless of how it's placed.
Watering A Cutting
I withhold watering a transplanted cutting for two days and then lightly water.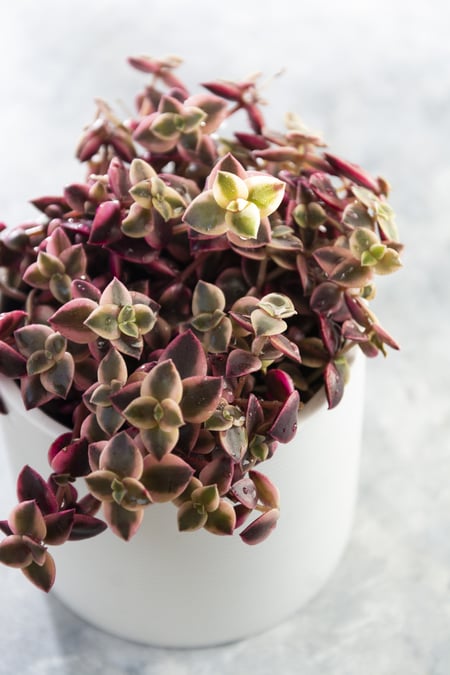 How Do I Prune My Trailing Succulents?
Pruning trailing succulents should be done at the onset of their growing season. There is no "one-size-fits-all" pruning method for these plants because they vary in their dormancy season. 
Some succulents go dormant in summer and grow in the winter and vice-versa. Before pruning my succulents, I research the plant to determine when it is dormant and when its growing season is. This helps me to know when I should prune.
An example is my string of pearls. I searched for "string of pearls, Senecio rowleyanus, pruning." Search results tell me that this species is dormant in the summer, so I know that at the beginning of fall, I should prune it. 
Most succulents can be pruned back about a third of the plant's size to reshape it or eliminate legginess. This aggressive pruning should only be done once a year at the beginning of the growing season (when it is not dormant.) 
When pruning, I am careful to use a disinfected, sharp pair of shears (an important part of my indoor gardening tool kit.) After each use before pruning another plant or putting them away, I wash and dry the shears.
Beautiful "Trails" Ahead
I am confident that beginners will grow passionate about trailing succulents as I did. Caring for them is so easy, which draws many gardeners into the succulent world. My beginner's guide to caring for trailing succulents makes it even more easy and fun!