Okay, I admit it. I have become obsessed with homemade natural fertilizers. While some people may be coffee or wine connoisseurs and take time to enjoy the specific qualities of particular brews, I regularly check and recheck the progress of my simmering fertilizer tea concoctions. I have even been known to pick essentials out of the compost bin to give my houseplants a nutrient super-boost!
Natural fertilizers for plants include banana peels, Epsom salts, eggshells, coffee grounds, wood ash, and fish tank water. Ingredients can be added to compost or made into nutrient-rich teas used for watering. It is essential to dilute all fertilizers sufficiently before adding them to plants.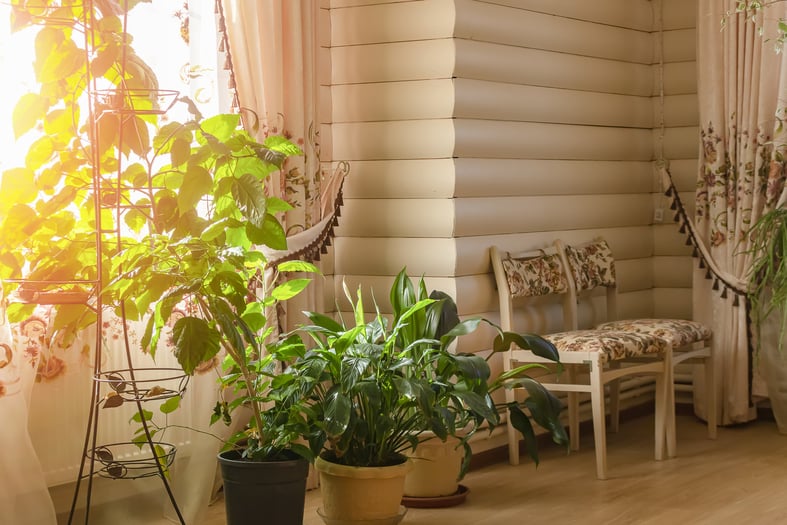 You don't need a huge yard or large compost pile to make natural plant fertilizers from everyday household items or waste. Let's face it, we all know farm animal manure is an excellent natural fertilizer, but most of us don't have a horse or goat living nearby. Let's check out how to fertilize houseplants naturally with some household items that we all have available.
How To Fertilize House Plants Naturally
Earlier this year, I wrote about creating natural fertilizers for my indoor plants. I no longer need to spend hours eyeing hard-to-understand labels in the plant aisle, and I get a huge feeling of satisfaction each time I add a new ingredient to my simmering fertilizer tea concoction.
Although many plants benefit from regular fertilizing during the growing season, be careful not to ladle on the love too much, especially with easy keepers like succulents. Too much of any particular element can damage or even kill plants.
5 Pro Tips For Fertilizing Plants Naturally
Halloween is the perfect time to brew concoctions and experiment with natural ingredients to make your own DIY house plant fertilizer. You can save time and money by knowing what everyday household items can be recycled to feed your plants naturally.
Here are five tips to save you from falling into some novice natural fertilizer-making pitfalls.
Let your fertilizer simmer: Some household items like green tea and eggshells can be added directly to plants as natural fertilizers. Others need to brew for a while to ensure that you don't inadvertently cause a fungal infection or spread a bunch of weed seeds that will sprout in all directions in spring.

To ensure that your fertilizer brew won't sprout into an unwanted life form, let it ferment, blend, chop, or leave it out in the compost pile before making fertilizer tea.

Use what you have – Recycling is a trendy word lately, but it really is a thing when making effective plant fertilizers. Be on the lookout for 'ingredients' for your brew. A friend's fish tank water or banana peels after a picnic – these things will start to excite you when you realize how beneficial they are for your plants.

Check the strength – Natural does not mean you can't overfeed and damage your plants. Although natural fertilizers tend to be less harsh than chemically produced products, if you only have a few houseplants, you may not need a massive supply of liquid fertilizer, even if it is natural.

If you find you have more 'ingredients' than plants that need fertilizer, it is much better to make a compost pile. That way, the recyclables will decompose into a less potent super-effective soil amendment that can be mixed with your soil later.

Things may get smelly – My two girls often have a good giggle when they see me holding my nose while straining my latest brew before serving it to my plants. Fortunately, once the mixture is added to the soil, the odor usually dissipates quickly if it is sufficiently strained and diluted.

Be careful using milk as fertilizer: I am including this one because I learned this the hard way (🤦‍♀️). Milk can work as an excellent natural fertilizer that provides calcium but take it from me… only use it on outside plants FAR away from your house.

The fat content in milk creates a terrible odor, so avoid all types of dairy products if you want to fertilize houseplants. Also, milk must be diluted 50-50 with water, so only use it cautiously to avoid destroying your plants.
What Is The Difference Between Fertilizer And Compost?
It can be confusing since we all know compost is a great way to feed plants. Most of us plant-nuts have a countertop compost bin. Making a natural fertilizer can be as easy or difficult as you want it to be and may be simple as making a cup of green tea.
In a nutshell, compost can be an excellent natural fertilizer since it contains plenty of nutrients from the breakdown of organic material. Most food scraps, lawn clippings, raked leaves, and farm animal manure can be included in compost, and it usually results in a bulky soil product that breaths new life into soil.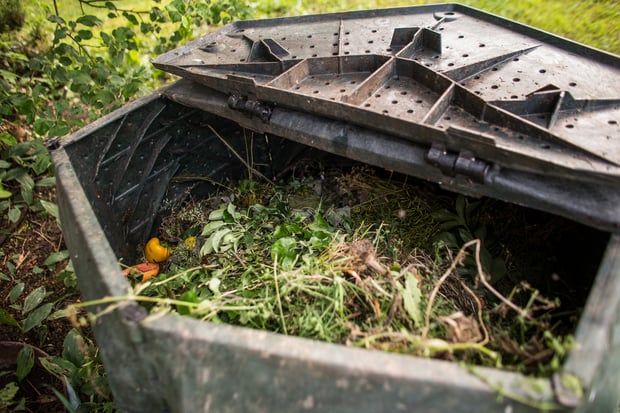 But you don't need an entire compost pile to create a natural fertilizer for houseplants. Even if you live in a highrise apartment with a few houseplants or only have a balcony garden, you can easily create some nutrient-rich energy drinks for your precious plants.
If you don't have space for a compost bin or are worried about the odor, making your natural fertilizer tea may be a feel-good middle-ground for you. Let's check out some natural fertilizer ideas that will give your house plants a lift.
What Is Good Homemade Plant Fertilizer?
You will be amazed to realize how many things you already have that work well as natural fertilizers for house plants. One of the added benefits of using natural ingredients is that you can be confident that they are safe if you have kids or pets.
After plenty of experimentation (including the disastrous milk fiasco), I have come up with my top 10 list of household items that work well as natural fertilizers for houseplants:  
Banana peels – There are many ways to unlock the potassium in banana peels for your houseplants. You can chop peels up and mix them into the top layer of soil or pop them into a blender and make a minced banana peel tea that you can use to water your plants.
Eggshells – you can let them brew or crush them and spread them directly over the top of the soil.
Coffee grounds – make a fertilizer tea brew with your used coffee grounds or spread a thin layer on the soil. If you have a lot of coffee grounds, add it to your compost pile, as it adds nitrogen and aids the decomposition process.
Epsom salts – using an Epsom salts solution may even help to revitalize your dying potted roses.
Aquarium water – (thanks to my neighbor's son) – if you know anyone with a fish tank, make friends with them and get your hands on the used water when they clean the tank. It is liquid gold for your houseplants.
Compost tea – If you have a compost pile but want to give your houseplants a quick nutrient boost without repotting, make a tea by brewing a compost solution (outside!) and straining off the solids.
Teabags – An occasional cup of tea at room temperature with no additives can benefit some houseplants.
Wood ash – Only use ash from natural wood and not from things like charcoal briquettes or anything that may contain additives like lighter fluid.
Grass clipping tea (be careful to let it brew to kill any weed seeds). Let your grass clippings brew for a few weeks, then strain and use the liquid.
Used cooking water – Only use water that does not contain salt, fats, or oil. If you have cooked vegetables, rice, pasta, or boiled eggs, the water left in the pot includes a range of nutrients that have seeped out of your food. Be sure to let the cooking water cool to room temperature before watering your plants.  
Frequently Asked Questions
Are Coffee Grounds Good For Plants?
Absolutely, especially for plants that like a more acidic soil like blueberries and, yes, you guessed it, roses! So go ahead and sprinkle used grounds onto the soil around your plants. Don't overdo it – your plants probably don't need as much coffee as you!
Another great way to give your houseplants a coffee lift is by making the used grounds into a brew you can use for watering. This also helps to ensure that it is diluted better.
Are Eggshells Good For Plants?
Ground eggshells are one of the secret gardening hacks that I swear by. To get my roses to grow faster, I mix up a quick eggshell and tea formula to add to the soil.
Are Teabags Good For Plants?
The actual bags don't have much nutritional value, but the tea leaves inside the teabags contain nitrogen, phosphorus, and potassium. If the bags are compostable (not all of them are), they can also be pretty valuable in the soil as they retain moisture.
How Often Should Houseplants Be Fertilized?
Plants benefit most from regular fertilizer feeds during the growing season or when the container's soil is depleted. While it is less common to overdose when using natural fertilizers, it is still possible to damage plants if the mixture is too concentrated.
Only fertilize your houseplants every two or three weeks during the growing season. Most plants, even houseplants, go through a dormancy stage during the colder months.
What Liquid Will Make A House Plant Grow Faster?
If your plants are in the correct type of soil with enough sunlight, they should only need water to grow. However, adding a liquid fertilizer has been shown to encourage faster growth as the nutrients are in a form that is easy for plants to absorb quickly. Gardening is a game of patience – provide the correct nutrient-rich soil and enough light, and fertilize when necessary to get your plants to grow at maximum speed. Too much liquid fertilizer or heavy concentrations can burn the roots of your plants. Even overwatering with plain water can be a death sentence for plants.