Whether it was a honeymoon trip to a tropical island paradise or a memorable holiday, the sweet smell of frangipani flowers will stay imprinted on you forever. When my cousin sent me a photo of a plumeria plant blooming inside her upstairs apartment in London, I thought my eyes were deceiving me, and I had to check with her that it was a living plant.
Plumeria can grow indoors. It needs a minimum of 5 hours of bright sunlight a day. Grow lights may be necessary to supplement available natural light. To thrive, plumeria requires an ambient temperature of between 65 to 80F. If triggered, indoor plumeria may also enter a state of winter dormancy.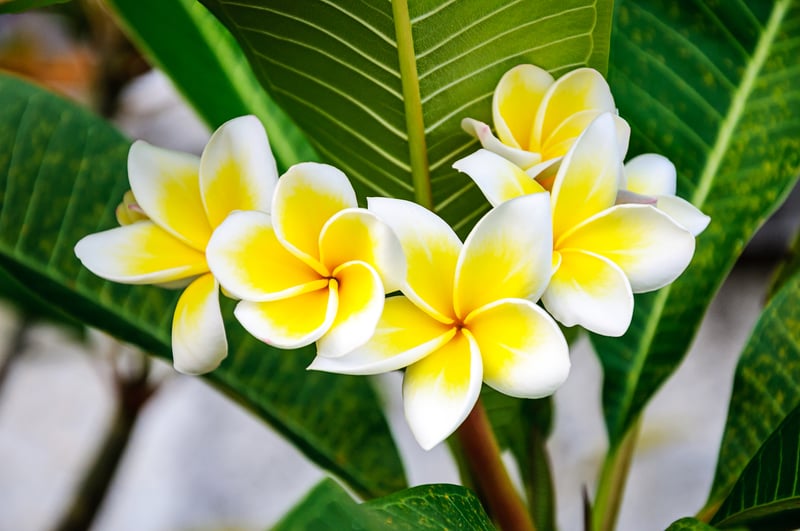 The fragrance of plumeria, which is commonly called frangipani, is unforgettable. It is one of those smells you instantly associate with a memory. Growing it indoors is not for beginner gardeners, but if you are willing to go the extra mile to create the right environment, it is possible to keep a small reminder of island enchantment with you – even if you live in an apartment.  
How To Grow Plumeria Indoors
In cooler regions, most plumeria plant owners keep this tropical plant outside in spring and summer and then retire it to rest in the basement or garage during the cooler months. This can work well as the plant naturally becomes dormant and doesn't need much light or water during the off-season.
But what if you don't have an outside area or want to keep a splendid island paradise plant alive in your living room throughout the year? It isn't easy, but with enough care and commitment, it is possible to keep a plumeria plant indoors.
In many ways, caring for plumeria isn't a lot different from taking care of rosemary. Both plants thrive outdoors in warm, humid climates, especially near the coast. They also both need loads of light to grow indoors – caring for an indoor plumeria just seems a lot more intimidating, and you definitely should never add it to your food!
In a nutshell, here's the scoop on things to consider if you want to grow a plumeria indoors:
Light – The plant MUST get at least 5 hours of direct sunlight a day. If you don't have a spot where it gets enough sun, you will need plant grow lights. Choose lights on a stand because once you have mastered keeping your plumeria happy, it can become quite sizable.
A decrease in light as the seasons change can also trigger winter dormancy, so be ready to fill the light gap soon as the days get shorter. At the start of the year, I wrote an article about plants that can grow with very little sunlight – plumeria is definitely not one of them.
Temperature – If the temperature drops below 50F, a plumeria may enter a state of dormancy. Then your indoor plant will lose all its leaves and look like a naked stick figure.
Homeowners who keep their frangipani plants outdoors during summer usually retire them to a garage or basement to overwinter them. It is vital that wherever you store your potted plumeria does not drop below freezing, or it may die.
Humidity – Plumeria does not enjoy dry air, and relative humidity needs to remain at around 40 – 50%. It helps to mist indoor plumeria every morning and evening but avoid getting water on the blooms.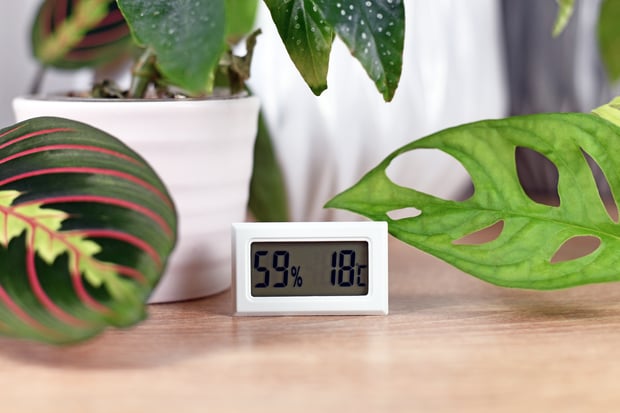 Pests – Creepy crawlies can be both a headache and a heartache for anyone keeping plumeria indoors. While outdoor plumeria is fairly resistant to most pests and diseases, pests like spider mites can't resist indoor plumeria. Fortunately, neem oil will quickly take care of them.
Potting mix – Use a cactus mix or add something like perlite or course river sand to your potting mix. The aim is to ensure that the plant gets the nutrients it requires without holding dampness around the roots.   
Watering – Plumeria is a drought-tolerant plant, so it doesn't like standing about in soggy soil. Water this tropical plant only when the soil is dry and then drench it. Ensure drainage holes are open, so excess water runs through immediately. Then don't water it again until the soil feels dry.
Container – Plant your indoor plumeria in a wide, heavy pot, as these gorgeous plants have a tendency to become top-heavy. You don't need a particularly big pot, and it is easy to keep the size of your plant in check with regular pruning.
Terracotta pots work well for a potted indoor plumeria since they are both heavy and porous. Plumeria must never be planted in a self-watering pot as the soil needs to dry out between waterings – constantly damp soil would be a recipe for yellow leaves and lethal root rot.  
Is Plumeria Toxic?
Surprisingly, all parts of this delightful Caribbean native plant are toxic, and the milky sap can cause a rash. Plumeria is not recommended as an indoor houseplant for anyone with young children or pets.
Fortunately, as gorgeous and fragrant as frangipani is, the plant has an extremely bitter taste which is a significant deterrent. When working with your indoor plumeria, wash any areas that may have been in contact with the plant's sap with soap and water.   
Are Plumerias Good Houseplants?
Plumerias can be good houseplants if you can meet all their basic requirements, which are:
Light
Temperature
Humidity
Keeping pests at bay
Although plenty of indoor gardeners successfully manage to keep a plumeria healthy indoors, I am not brave enough to try it. Firstly, because I have kids and pets, and secondly, keeping it healthy indoors can be time-consuming and challenging. (Also, luckily, I live in the Mediterranean, so fragrant plumeria stays healthy and happy outdoors all year through!)
Keeping plumeria indoors can be great as an 'only child' type of plant project (like my cousin's one in her apartment). Getting the plant to bloom during the gloomy winter months in a chilly climate would be like a dream come true!
Do Plumerias Like Small Pots?
Plumerias don't mind being in relatively small pots, but when grown in containers, they can get top-heavy and topple over if they aren't properly anchored. Choose a container that looks proportionate to the size of your plant.
For plant cuttings that are shorter than 12 inches long, use a 1-gallon pot. Anything bigger will need a larger pot. Repot indoor plumeria every year in spring to ensure that it doesn't become root bound.
To ensure proper drainage, raise the pot slightly above the water collection container under it. You can stand the pot on bricks or pebbles above the water collection container.
What Kind of Fertilizer Do Plumeria Need?
The ideal fertilizer for plumeria should be high in phosphorous and low in nitrogen. Only add liquid fertilizer monthly during the growing season. Of course, if your plumeria grows well indoors, that might be throughout the year!
You can use a natural houseplant fertilizer, like compost tea, to fertilize your indoor plumeria plant. If the plant goes into a state of winter dormancy, give it a rest and only resume fertilizing when it starts growing again.
Does Plumeria Grow From Cuttings?
Taking cuttings from healthy plants is the best way to propagate plumeria. Thick healthy cuttings of at least 12 inches long can grow into gorgeous new plants.
Root plumeria cuttings in spring or summer. There is a trick, though. Be sure to let your cutting dry out for at least a week before you dip it in rooting soil and plant it in potting medium.
That's all there is to it – if conditions are favorable, new leaves will emerge, and your indoor spaces (no matter where you live) could feel like a tropical island destination!
How Do I Get Plumeria To Bloom Indoors?
If you have brought your plumeria plant indoors for winter, it won't bloom. No matter how much special care and attention you give it, like Sleeping Beauty, it will shut down, and only the magical kiss of spring can wake it up again.
To get your year-round indoor plumeria to bloom, it must think it is living in the tropics. That means it must get sufficient light and warmth. Unlike compliant paperwhites that readily provide winter blooms for your home, plumeria needs more persuasion.
In addition to temperature, the plant must have a minimum of 5 hours of full sun each day to have any chance of blooming. If you are using grow lights, keep them on for 14 hours a day. Getting a plumeria to bloom all year round in cool winter climates takes indoor plant care to the next level. If you can keep a plumeria healthy and happy indoors all year round, like my darling cousin, take a bow because you have reached a black belt level of indoor gardening!