Why settle for artificial or paint colors when there's a whole world of live greenery to brighten up a home? I started from one tiny plant to having a house full of gorgeous fast-growing plants. I have 7 super easy indoor plants that won't disappoint because they get up and go in growth!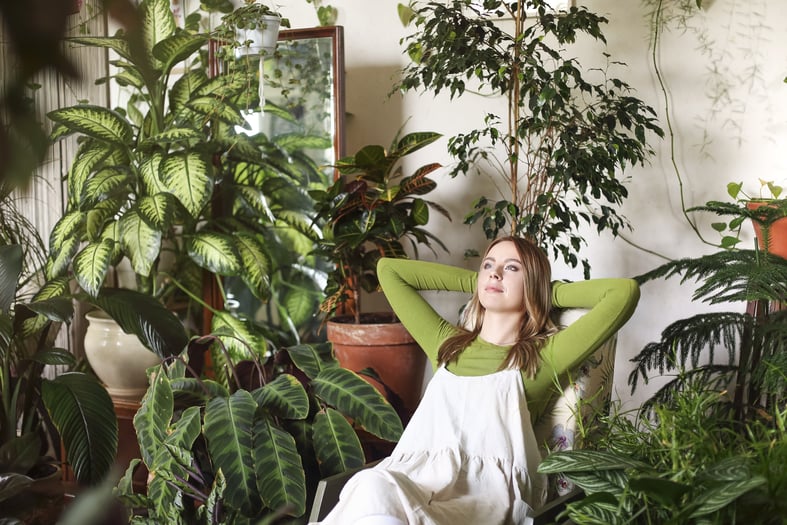 What Are The Quickest Growing Plants For Indoors?
I know what it's like to have indoor plants that take forever to grow. Some are absolutely beautiful but take so long to fill out and add that organic element to my house. When I moved into my first apartment, I remember looking for indoor plants. 
What I didn't know at that time was that certain plants grow fast, and some grow at a rate slower than a snail's pace. Over the years, as my indoor gardening expertise grew, I learned more about the growth rates of various plant species. Boy, if I only knew these things back when I purchased my first plant for that apartment!
Recommended Fastest Growing Plants Indoor
When it comes to the growth rates of plants, my readers inquire if there's such a thing as plants that grow as fast as a week or so. I got to thinking and decided to compile a list of different plant species that grow quickly for those who want to fill their house with greenery a lot faster.
What Is The Easiest Indoor Plant To Grow?
There are actually fewer indoor plants determined as "more difficult" to grow than those considered easy growers. This provides a large array of indoor plants to choose from. To gain a look at easy growers that grow fast, I have narrowed this group further down.
Easy Small Indoor Plants That Grow Fast
Pothos Ivy (Epipremnum pinnatum) takes the lead as one of the fastest-growing trailing indoor plants. Ivies are easy to grow and maintain. Note: this plant is considered toxic for pets.
Care: Easy
Water: Low
Soil: Potting Mix
Sun: Indirect
Habit: trailing (ideal for hanging basket)
Growth Rate: Fast
Echeveria species are lovely, small succulents that have a flower-like appearance. The colors are stunning and make a nice addition to a small succulent arrangement. Add a nice contrasting soil cover to highlight the succulents.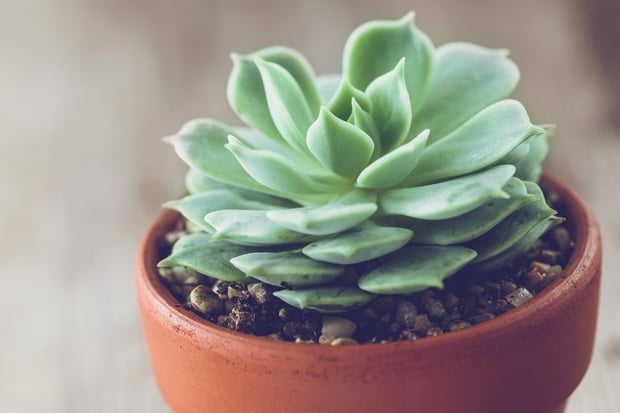 Care: Easy
Water: Very Low
Soil: Substrate
Sun: Indirect
Habit: Mound
Growth Rate: Fast
String of Buttons (Senecio rowleyanus) looks just as its name implies! This succulent is ideal for hanging baskets as it grows several feet per year.
Care: Easy
Water: Very Low
Soil: Substrate
Sun: Indirect / Partial Shade
Habit: trailing (ideal for hanging basket)
Growth Rate: Fast
Easy Large Indoor Plants That Grow Fast
Weeping Fig (Ficus benjamina) is one of the most common indoor tree species homeowners grow. This tree can grow as tall as 50 feet and be as wide as 30 feet, so diligent pruning is necessary. Having the right tools for indoor gardening is essential to maintaining an indoor tree of this magnitude.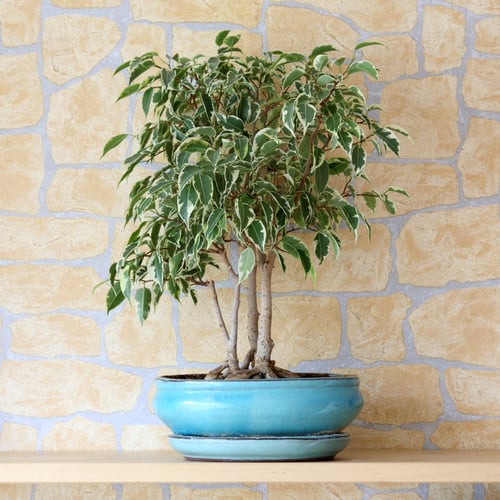 Care: Easy
Water: Medium
Soil: Potting Mix
Sun: Full Sun / Partial Shade
Habit: Upright
Growth Rate: Fast
Rubber Plant (Ficus elastica) are large-leaf indoor trees that do rather well in the corner of a room. Note: this plant is considered toxic for pets and small children.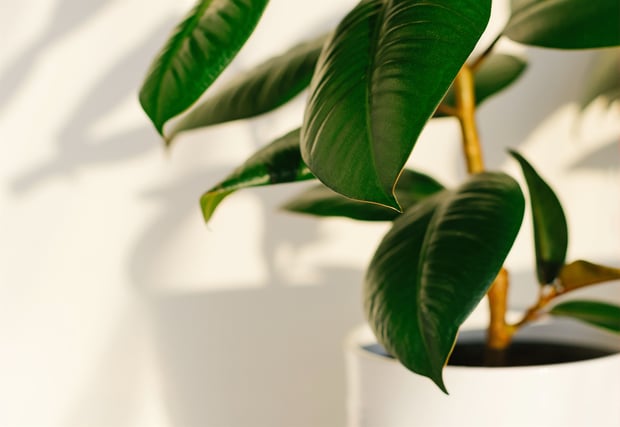 Care: Easy
Water: Med.
Soil: Potting Mix
Sun: Indirect / Full Sun / Partial Shade
Habit: Upright
Growth Rate: Fast
Bamboo (Bambusa) is a genus of several thousand species. The Guinness Book of World Records lists bamboo as the fastest growing plant in the world. As an indoor plant, Bambusa vulgaris is an easy grower with a fast growth rate. 
Harnessing this species' growth rate with meticulous pruning, training, and care (including misting) may make it an ideal indoor plant (providing there's ample space.) 
Care: Easy
Water: Mod.
Soil: Loamy, Light, Moist
Sun: Full Sun / Partial Shade
Habit: Upright
Growth Rate: Fast
Schefflera (Schefflera arboricola) is known as "dwarf umbrella tree." This, too, is a very common indoor houseplant. It can reach as tall as 6 feet tall, making it ideal for any room in the house. Note: this plant is considered toxic to humans and pets.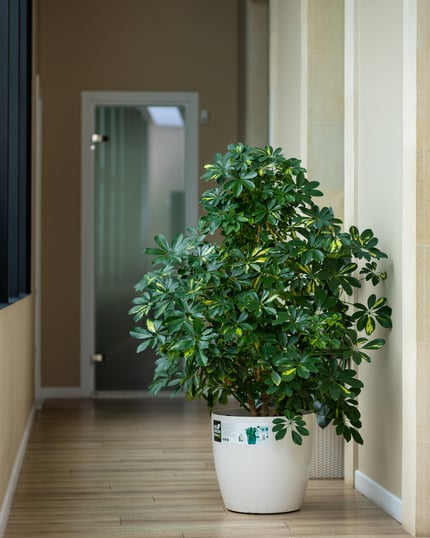 Care: Easy
Water: Mod.
Soil: Potting Mix, Moist
Sun: Full Sun / Partial Shade
Habit: Upright
Growth Rate: Fast
Indoor Plants Do Make A Difference!
Aside from the fact that plants provide greenery indoors, they play a beneficial role in the lives of indoor gardeners. The proof is in the pudding with a study published by the Journal Of Physiological Anthropology highlighting how indoor plants affect people. 
The act of nurturing (watering, pruning, etc.) reduces overall stress. This occurs by a decrease in blood pressure and a general sense of feeling calm, content, and comfortable.
When I had someone tell me I have too many indoor plants, I simply replied by telling them my plants are my therapists (jokingly.)
Fastest Germinating, Seedling Plants
Through the years of gardening, I have learned that patience is a must. However, as a beginner gardener, I wanted results fast and didn't want to wait. So, I know the pain of looking for indoor plants that grow fast! 
As far as knowing what plant germinates the fastest, I would say microgreens. The fastest-growing indoor plants from seed are perhaps microgreens. It takes only a few days for microgreen seeds to germinate. Following behind microgreens are vegetable or herb seeds. Germinating an indoor vegetable or herb garden can be done in as little as 1-2 weeks.
And as for which plants grow in a week, that is a tough one to narrow down. Vegetable, herb, and ivy seedlings are ones that take off with results that are noticeable within a week.
The Longevity Of Indoor Plants And Care
Indoor plants that are not well cared for will, of course, become stunted in growth or, worse, end up dying. It helps to know what may cause fast-growing indoor plants to suddenly or gradually fail to grow. A number of things can influence plant growth.
When shopping for indoor plants, I highly recommend paying attention to the plant tag (label.)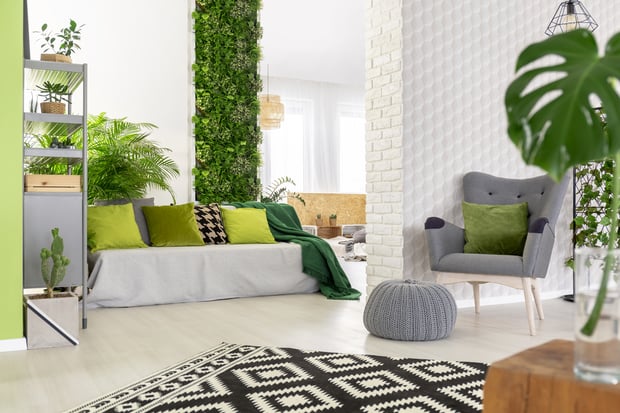 Most often, the below indicators are on a specific plant species in a garden center noting the plant's requirements.
Sunlight
Plants require sunlight to thrive. Too much or too little, and a plant begins to show symptoms. Wilting, burning/browning, or lack of growth are the most common signs of sunlight issues. 
Full Sun: bright window that gets 6-8 hours of sun
Partial Sun: bright window that gets a few hours of sun
Indirect Sun: bright window out of direct sunlight
Partial Shade: near a bright window, but out of the path of sunlight
Shade: anywhere in a room is fine as long as it's away from the sunlight
Temperature
Indoor plants typically do well indoors where temperatures are 50-80 degrees (F) (10-26 degrees C.) Not all plant tags have specific temperatures but instead, list hardiness zones. 
Come wintertime; I make sure that my indoor plants are not near windows where temperatures are frigid. Likewise, when summer arrives, I ensure the plants are positioned in near windows with ample air circulation to keep them cool.
Water, Nutrition, Soil
Plant tags should always state how many times to water the plant weekly, when to fertilize, and what type of soil it requires. These three things are essential to follow. 
Snail Vs. Hare
When comparing the fast growth rates of various indoor plants, I love reflecting on their slower counterparts, whether they are indoor or outdoor specimens. A plant featured in the Guinness Book of World's Records as the slowest bloomer is the largest bromeliad species known as "The Queen of the Andes" (Puya raimondii.) One of these beauties discovered in Bolivia took almost 150 years to showcase her bloom. I cannot imagine a plant outliving me before it decides to flower!
On the flip side, it's also on record that a yucca plant (Hesperoyucca whipplei) grew a whopping eleven feet in just two weeks (10 inches a day.)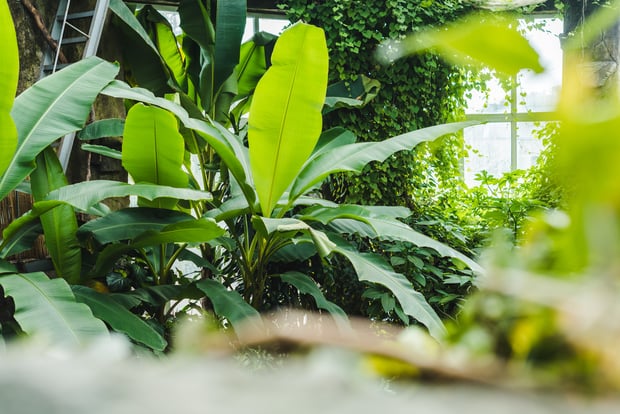 Enjoying Fast Results
Once I had all of my new fast-growing indoor plants in place, I was finally able to sit back and enjoy the fruits of my labor. My passion for growing fast and slow-growing plants has spilled out into the outdoors. I know that those who find they have a green thumb will also find their love of green on both sides of the backdoor!