Patches of yucky mold on the bathroom ceiling above the steamy shower cubicle are a common challenge in many homes, but on your beloved houseplants – no way! The first time I spotted a white film over the soil in my Echeveria plant, I immediately did a double take since I knew it wasn't something I planted!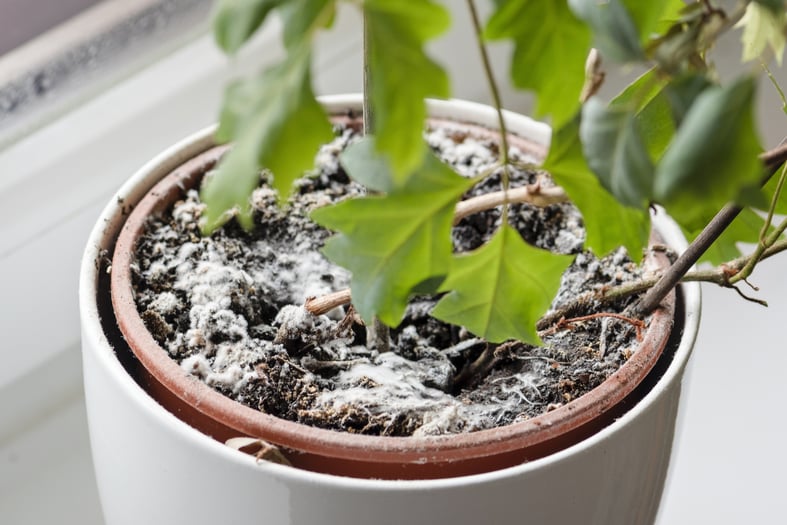 White mold is also commonly called powdery mildew. It is a fungus that thrives in spots that are warm and humid. It can spread quickly if it has a food source like decaying organic matter in soil. White mold can indicate issues like poor airflow, overwatering or overcrowded conditions.
To my huge relief, it turns out that although the powdery coating on my plant's soil wasn't aesthetically pleasing, it isn't as big a deal as some other deadly indoor plant problems. Let's get down to the nitty-gritty about this mold so you don't have the same shock reaction as me if you spy a white coating over the soil in your pots. 
What Exactly Is White Mold?
White mold, which is commonly found in indoor pot plants' soil, is usually a harmless saprophytic fungus. This type of fungi feeds on dead organic material such as dead leaves or mulch that you have around your plants.
Mold spores are floating about in the air all around us, and while that may sound gross, it is entirely natural and has nothing to do with poor hygiene or anything like that. These microscopic fungus spores are also on most surfaces, so if they find a poorly lit, warm spot with ample moisture and some organic material to munch, they get to work settling in and growing.
Is White Mold Harmful To Plants?
The white mold that one sometimes finds on the soil around plants doesn't usually affect indoor plants too much. If you spot it quickly and take steps to eradicate it, it's certainly not as devastating as something like a spider mite infestation! The fungus is simply feasting off the damp decaying organic material in the soil around the plant.
Now that I know more about the fuzzy white mold, I like to consider its presence as an early warning signal that there is something wrong in a plant's environment. The underlying cause may be something like overwatering or poor drainage. A proliferation of white mold on the soil surface is less likely to affect a plant's health in the short term than the condition that it is allowing it to thrive.
Why Is There Mold Growing On My Indoor Plants?
White mold thrives on indoor plants for the same reason we live in houses. The air around the plants is protected and warm – in winter, you are even providing additional heating, so life is good for white mold that finds its way onto the soil of an overwatered houseplant!  
Like most houseplant pests and conditions, the best way to treat them is to avoid them entirely! However, since white mold is a fungus with spores just about everywhere, it may be difficult to avoid entirely. Sooner or later, most plant owners will find that they are growing more than just their plants, but fortunately, it is not a difficult issue to overcome.
Can You Save A Plant With White Mold?
Eradicating white mold from a plant is usually just a matter of removing the surface layer and letting the soil dry out slightly. Moving the plant to a well-ventilated, high-light position will also help because fungus prefers warm, dark, damp spots to grow.
If you want, you can repot the entire plant, but keep in mind that since the mold spores are everywhere, unless you address the main cause of its proliferation, it is likely to reoccur in the new soil.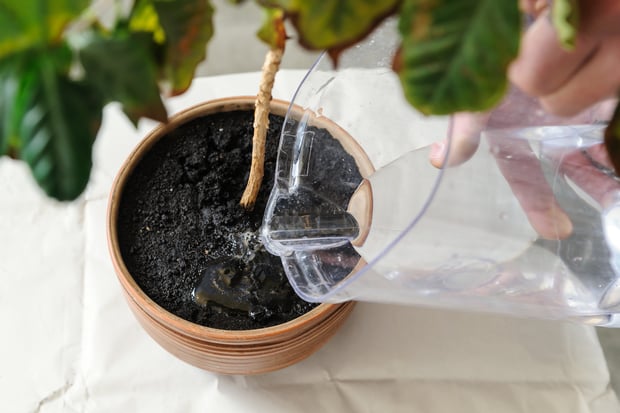 There are two natural ingredients that you have in your kitchen that you can use to treat white mold on your plants:
Cinnamon – It turns out cinnamon isn't just good on pancakes but is also a natural anti-fungal. Once you have removed the unsightly film of white dust from the soil, sprinkle a fine layer of this fragrant spice over the spot.
Baking soda and water – Mix a mild solution of this versatile mix and apply it to the affected area.
A more effective fungicide treatment like neem oil will undoubtedly wipe out any white mold on or around your indoor plants. It is, however, essential that you investigate and address the conditions causing the mold to take off and not just remove the unsightly powdery white layer of dust.
Why Does My Succulent Have White Mold?
A fine layer of white power on your succulent's leaves can only mean one thing – powdery mildew. The fungus loves warm, humid settings, so even if the fat leaves are dry, once the problem starts, you will need to take action to nip it in the bud and prevent it from causing permanent damage.
Succulents have become really popular houseplants. They are easy to care for and come in various shapes and sizes. They are also known for their resistance to many plant diseases, but unfortunately, white mold seems to love succulents just as much as I do!
Treat the fungus by removing any heavily affected leaves and applying a fungicide like neem oil. Remember also to treat any nearby plants as a preventative measure.
Four Ways To Prevent White Mold On Succulents:
Isolate any succulent plants that have white mold.
Increase ventilation – run a fan or open a window to increase airflow around the plant.
Watch your watering, so the top layer of soil in pots doesn't stay damp – Only water in the morning or use a watering globe or bottom watering system.
Reduce humidity – you may not be overwatering, but white mold can form and coat a plant in humid conditions. It is best NEVER to mist succulents as this can be a winning recipe for the formation of white mold on the plant.
How Can I Prevent White Mold From Growing On Soil?
If you see a dusty-looking patch of white mold on the soil around any of your houseplants, do a quick check of the following:
Humidity – This can be a particular concern for bathroom plants that live in steamy environments.
Lighting – Mold prefers to stay out of the sun, so placing affected plants in a lighter spot can help to keep white mold at bay.
Ventilation – Inside plants often get white mold because there may not be a lot of air movement. Mold spores are, therefore, able to take hold and grow without disturbance. To reduce the chance of fuzzy white mold developing on soil, put on a fan or open a window occasionally to get air in the room moving.
Moisture – White mold thrives in damp conditions. Keeping the top layer of pot plants' soil dry will reduce the likelihood of mold developing on the soil. Using a watering globe can be a handy way to get on top of a mold infestation because you will be able to bypass the surface layer.
Rotting material on the soil's surface – Remove dead leaves from the soil's surface around your pot plants. Remember, the fungus spores need damp, dead organic material, and a buildup of old leaves after a good watering creates an ideal environment.
Avoid overcrowding – this isn't usually an issue in most indoor plants, but if you have a collection of plants in something like a stackable planter, ensure that each plant has sufficient space at soil level. White mold can thrive in cozy, damp nooks and crannies between plants.
In addition to addressing any of the causes listed above, there are some neat tricks that you can use that may be useful to prevent the development of white mold on the soil around your pot plants.
The Bottom Line About White Mold…
White mold spores are everywhere in the air around us, and the fungus will grow in any place that it finds a suitable environment. Keeping white mold in plant soil at bay is usually a simple matter of removing it, increasing ventilation, and lowering humidity around the plant.