Inspiration comes from many sources, and while scrolling through small garden ideas online, I realized that rock gardens don't only have to be about succulents! A rock garden can be a place of fairies and magic, so get the kids involved, and it's easy to turn a drab corner into a low-maintenance garden feature to add a splash of color or create a useful herb garden for the kitchen.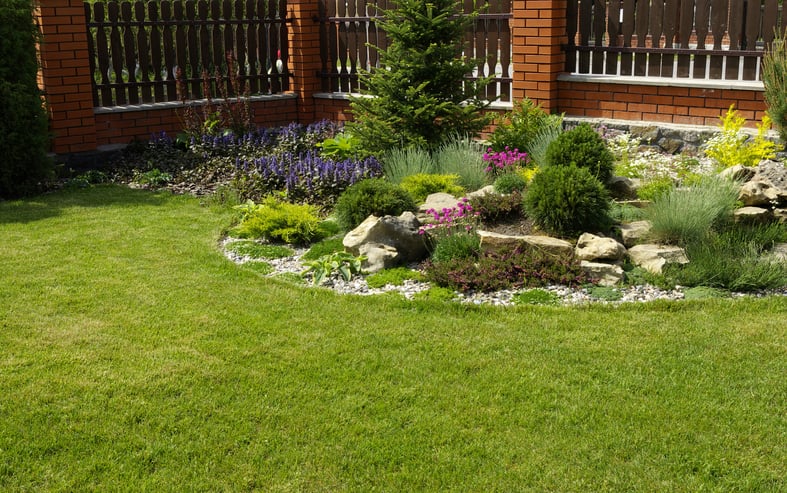 Adding a rock garden to a corner area is an excellent way to add texture and color. Corners are naturally quiet and protected from wind, which provides plenty of options for utilizing the space. A rock garden can be purely aesthetic or a fully functional herb or butterfly garden.
Summer is here, and it's time to take our gardening projects outdoors and revel in the warm sunshine. Turning an uninteresting corner in the backyard into a little landscaped wonderland is a lot of fun.
Pretty Small Corner Rock Garden Ideas
Rock gardens are more than just a pile of rocks with a few succulents dotted about. Corners are perfect locations for rockeries as they are natural focal points. They can add height, color, and, most of all, texture to awkward spots in your yard.
Before you start, get inspired! There are plenty of classic and very unusual examples of gorgeous little rock gardens available online. Your rock garden doesn't have to cost a lot; in fact, you can often use cuttings of plants that you already have, especially if you are going to use succulents.
Here are some ideas for small corner rock gardens that I absolutely love: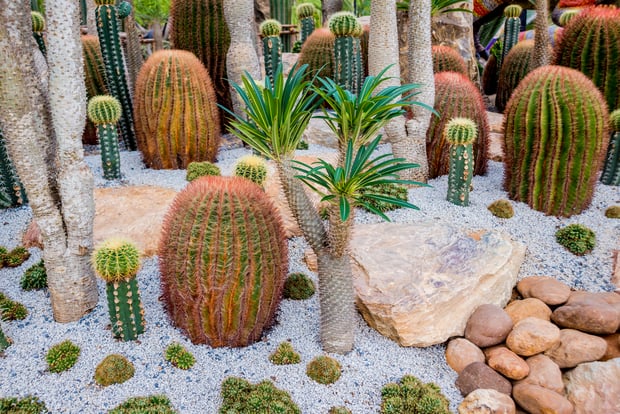 Zen Rock Garden – You don't need loads of plants to make a rock garden interesting and pretty. Different-sized stones and pebbles, interspersed with sand or a touch of water, can add texture and interest to a small corner area.
A more structured space can have a simple Zen look and feel. A bit of sand, a few rocks, and some neat plants, and you will be on your way to creating a harmonious corner.
Antique Feature Rock Garden – Get creative with any feature items that you could use. Team up an old bicycle, washbasins, or a wagon wheel to create something interesting and unique in your corner rock garden. A tall item like a bike or wheel can also serve as a trellis for climbing plants and hide the back corner in a pretty way.
At Christmas time, don't forget to twist fairy lights around your featured item to make the area seem even more magical.
Emphasize the curved corner shape with waves of color – Although you can add an actual fountain inside a corner rock garden, if you're like me, you probably need something low maintenance, especially to begin with.
When designing your garden, check out the different sizes and colors of pebbles available. Even if you use uniform low-growing plants, bands of varying color pebbles and rocks can create a beautiful tiered effect.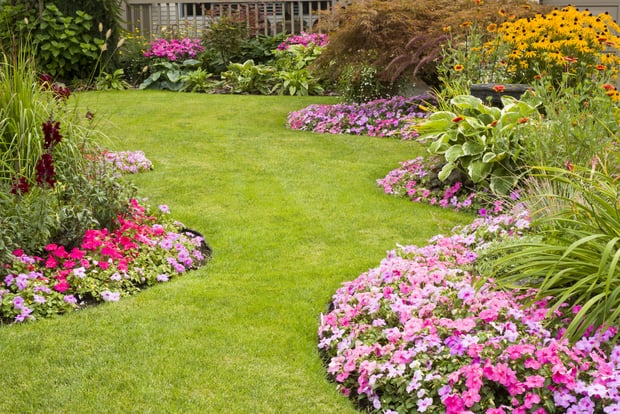 White rock garden – if you have a dark corner spot that could do with a facelift, white rocks can add the touch of life needed. Creating a raised rock garden and adding various-sized white stones will make plants pop. Dark corners can be tricky, so using light-colored rocks with contrasting long leaf plants will instantly lighten and brighten the area.
How Do You Design A Corner Rock Garden?
Always start with the end result in your mind. Get some inspiration from images of beautiful rock gardens and think about if they could be replicated in your situation.
Corners are often dark little forgotten spaces in a garden where leaves pile up and garden equipment gets discarded, but it doesn't have to be like that. Before embarking enthusiastically on your project, first, ask yourself a few questions:
Will this be a standalone project for a corner, or do some elements need to carry through to the rest of the landscaping?
Should it look natural, or will it be more structured? Think about and plan the overall look and feel of your rock garden.
Will my rock garden look good throughout the year? Summer gardening is always a joy, as everything is awash with color. However, don't fall into the summer trap. A gorgeous summer rockery may look like a pile of discarded builder's rubble during winter if you haven't planned for the cold months. Plan your rock garden with all seasons in mind.
How much time do I have to maintain the rock garden? Rock gardens should be low maintenance, but they are not no-maintenance. Some plants will require a little more attention than others.
Size counts! Take it from me. I often tend to get a bit carried away once I start a new project, and before I know it, I find myself with a much larger endeavor than I had planned. Start your corner rock garden with a tape measure.
Ensure that the allocated area is symmetrical, if it should be, and decide on the front shape mindfully. Don't just let it evolve, or you may find yourself with boulders spilling out of the design and looking untidy.
Things You Will Need To Start Your Rock Garden
As the name suggests, the common component in all rock gardens is, of course, rocks! If you are going for a taller, textured sloping look, you will probably need some large rocks. A good tip is to look about your neighborhood for any building projects that are underway and ask for any unusual rocks that may have been unearthed.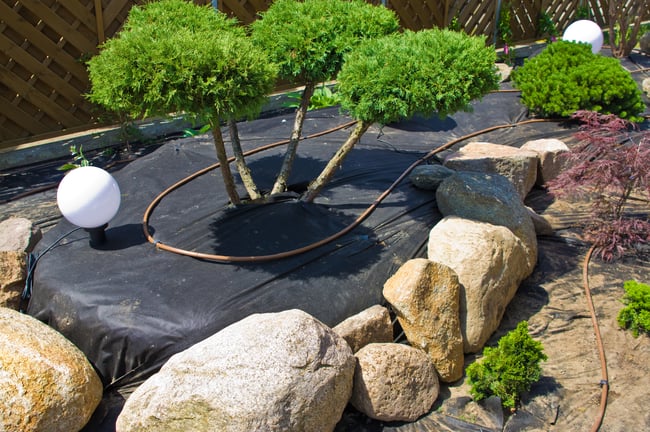 A corner rock garden can be built higher than other areas because you don't need to see over it, so go ahead and add plenty of textures and features like a birdbath or stackable planters. A rock garden doesn't only need to be rocks and pebbles! The stones can simply tie everything together neatly.
Arrange rocks on top of each other and add soil that has been amended with gravel or sand. Place larger rocks at the bottom and work your way up. If you have some large feature rocks, they can be placed higher up so long as they are flat side down and on a completely stable platform. And don't forget to leave ample space for your plants between the rocks!
Should I Add A Border To A Corner Rock Garden?
Most rock gardens are designed to blend into the surroundings; it doesn't always need an outline to define it from the rest of your garden. However, a corner rock garden will look neater if carefully planned and measured.
Since the shape will almost always be triangular, you will have two high sides to work against and the deepest point in the center. A border of different color rocks or uniform-shaped pavers can give your rock garden a neat, planned appearance, even if it contains exuberant plant growth.
What Makes Rock Gardens So Appealing?
A beautiful rock garden can be creative, low maintenance, water-wise, and beautiful. Regardless of the style of the rest of your yard, if you have a corner that could do with a lift, possibilities are endless, and mother nature has all the materials you will need right at your disposal. Get the entire family excited about creating a low-maintenance corner rock garden that will brighten things up and attract butterflies and hummingbirds to your colorful nook. It's a lot of fun, and you don't have to complete the whole project in one day. So long as you have a defined space and a plan, a pretty rock garden can be a work in progress.