The breathtaking beauty of roses is that the blooms are fairly short-lived. Each flower on the plant only lives for around two weeks before its colorful petals fade. If they are not removed, the base of each bloom will become a rose hip. A great tip to keep your rose plant repeat flowering is to deadhead spent flowers.
There are two ways to deadhead roses. An easy twist and snap method is a simple way to remove spent blooms manually. The second method, the 5-leaf junction way, involves carefully snipping off finished blossoms at a position slightly above the nearest leaf with five leaflets.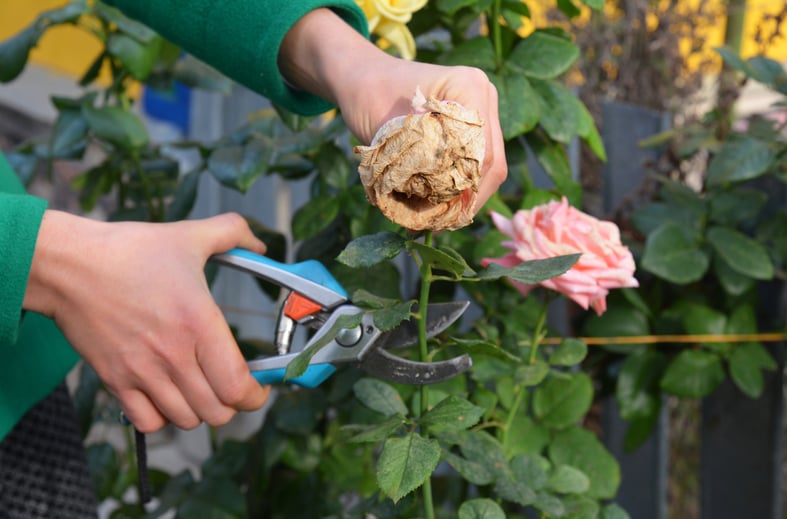 Unless you want rose hips, deadheading is an easy process that will stimulate the plant to send out new blooms – and that is exactly what we all want – masses of gorgeous roses! Stand by for everything you need to know to deadhead spent flowers and keep your roses healthy and flowering for as long as possible.
Reasons To Deadhead Roses
Anyone who has roses may flinch at the thought of snipping off flowers or cutting growth back. After all, we spend a lot of energy and time encouraging our beloved plants to grow, and the very last thing any gardener wants to do is to damage their gorgeous rose plants.
Fortunately, deadheading roses (as drastic as it sounds) doesn't involve anything more than removing finished blooms. There are actually multiple reasons why this is a good idea:
When Should Roses Not Be Deadheaded?
You may now be eagerly reaching for your clippers, but before you start removing spent rose blooms, first check the following:
Are your roses the suitable variety that will benefit from deadheading? Believe it or not, some types are not great candidates. Varieties like the all-American, low-maintenance shrub variety called Knock Out were specifically developed to be self-cleaning. This means that spent blooms will naturally fall without any need for deadheading.
Some rose varieties, like rambling roses, do not repeat bloom. Deadheading will make the plant look neater, but it won't produce any additional flowers in the same season.
Spent blooms naturally form rose hips which can look pretty, have loads of uses, and contain rose seeds if you want to try to propagate new plants using the seed method. If you specifically need masses of rose hips, deadheading is not recommended.
How To Deadhead Roses
Unlike pruning, deadheading roses only involves removing finished flowers. There are two popular ways to deadhead spent blooms; fortunately, both are simple and effective.
1. Twist And Snap Method To Deadhead Roses
This easy, no-tools-required method of deadheading simply involves manually twisting and snapping spent, brown blooms from the plant. This method can work well, particularly if you have a rose garden with cluster blooms that need to be cleared regularly, like my neighbor's impressive Iceberg roses.
While this will certainly do the trick to make the plant instantly look fresher, this method has a few downsides.
2. The 5-Leaf Junction Method To Deadhead Roses
The 5-leaf junction method of deadheading spent rose blooms gives gardeners the opportunity to purposefully shape their plants while removing spent flowers. Instead of simply snapping off old blooms, the individual spent flowers or finished clusters are neatly snipped off with a clean, angled cut using 5-leaf formations as a guide.
While some sources recommend snipping the cane slightly above the first 5-leaf junction, others recommend going lower and cutting above the second cluster of 5 leaves. I am usually guided by the shape of my rose plants and the season.
Plants deadheaded early in the growing season are more likely to grow back stronger and form loads of new cane than those deadheaded closer to winter. However, if your roses are exposed to a lot of winter wind, deadheading back a little further can prevent the tops from blowing in inclement weather.
How to deadhead roses using the 5-point junction method: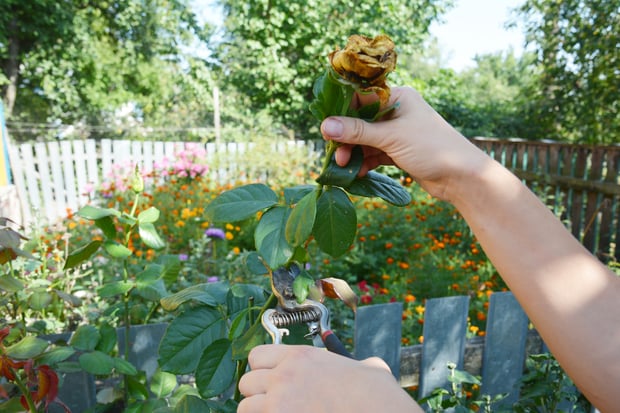 What Happens If You Don't Deadhead Roses?
So now that you know how to deadhead your roses, you are probably wondering how your precious plants managed to survive before. The answer is that they would have simply developed rose hips where the blooms had been, with little chance of reblooming, even if they are a repeat blooming variety.
Deadheading roses has numerous aesthetic and health benefits for the plant. For rose growers like me, the more flowers I can coax my beloved rose plants into producing each season, the happier I am!
Creating seeds inside the rose hips is an energy-sapping business. Unless you specifically need them, or it is a single blooming variety like a rambling rose that looks beautiful covered in bright orange rose hips, regular deadheading will result in healthier rose plants that are more prepared for the next blooming season.
There are, however, three other great reasons to deadhead roses regularly:
Will Roses Rebloom If Deadheaded?
Most of us deadhead the spent blooms on our roses to encourage the plant to send up more flowers. However, note that not all rose varieties are repeat bloomers, and once-per-season bloomers are especially common in older rose varieties.
Fortunately, most modern hybrid roses, climbing roses, shrub roses, Floribunda, and Grandiflora roses will repeat bloom, and this feature can be encouraged by regularly deadheading old flowers. Regular deadheading is a great way to keep rose plants looking neater and stimulate them to bloom again.